Videos are powerful media, whether they are for people who want to share their content with their followers or for businesses that want to promote their products to customers.
If yours is a business that makes use of videos as a marketing strategy, know that videos provide a lot of advantages. Videos can help improve search engine optimization, keep users on your pages for longer, are captivating, convert more, and are easier to share.
From full-length videos to simpler ones, they are persuasive enough to convert potential customers into buying customers. If you are looking at producing the latter, there is actually no need to search far and wide, and learn all the technicalities to be able to produce that video. There are tools that can help you.
In this detailed review, we are going to take a look at two of the best video editing software in today's industry, TechSmith Snagit and Camtasia studio. We will also learn their features and how you can avail of them at fantastic discounts.
Introduction To The Two Software
What Is Camtasia Screen Recorder And Video Editor?
Camtasia is among the most powerful video editing software available for Windows users. This software comes with a wide range of features that will let you create, edit, and share videos online.
With the Camtasia video editing application, everybody can develop stunning visuals to create tutorials, slideshows, guides, presentations, and so much more multimedia content.
Not only these, but Camtasia also lets you import video files and audio tracks, making it easier to include your existing projects in the whole creative process.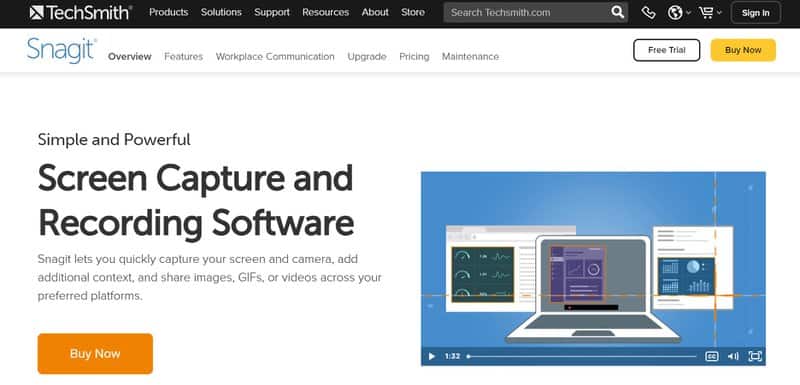 On The Other Hand, What Is Snagit Screen Capture And Recording Software?
Aside from Camtasia, what else is there in the package? You have got Snagit. Snagit is a simple, lightweight, and useful screen recording software that lets you take screenshots on a Windows PC.
With this program, you can select a specific area on the computer's screen and capture the display conveniently. This tool is the perfect choice for video creators, presenters, meme creators, forum posters, bloggers, IT workers, and journalists.
The best part is, Snagit does not affect system resources, and it can run smoothly on Windows 10 and 11 systems.
Like Camtasia, Snagit has always been a popular software for what it does, that is, taking screenshots. And, the 2022 version comes with new features. For instance, the tool comes with picture-in-picture recording, Cloud library compatibility, video improvements, cross-platform markup consistency, cross-platform file format, and performance improvements.
With Snagit, you can instantly share or save your images and videos across various other programs, such as Microsoft PowerPoint, Microsoft Excel, Google Drive, Slack, and so much more.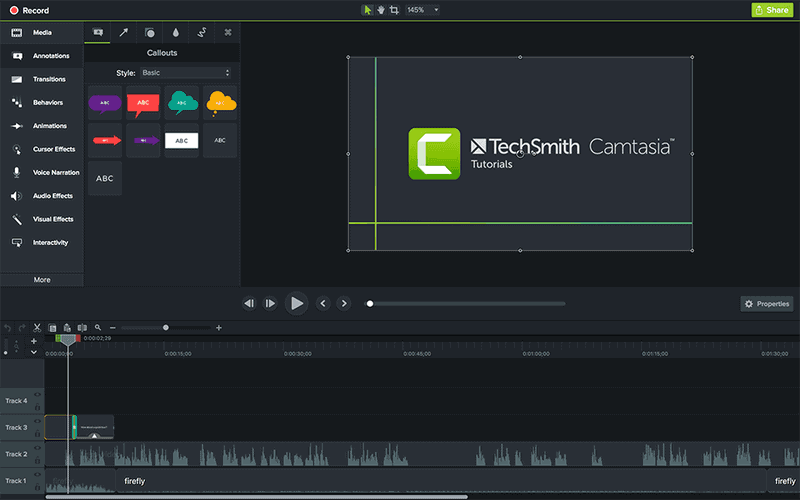 Well, Camtasia, essentially, comprises multiple productson one platform. It is a video maker, screen recorder, and video editor rolled into one. It has the power to create interactive, robust, and professional-looking videos that you can use in a wide array of projects, from YouTube video content to product demos, name it.
Camtasia has two major components, the Camtasia recorder and the video editor. Camtasia Recorder is a fully featured video recorder that lets users record high-quality videos with sound directly from their computer screens. Meanwhile, the Camtasia video editor is the main software, and thus the main selling point, of the product. It comes with an advanced timeline interface that allows you to manage multiple video clips simultaneously and efficiently.
Once you use Camtasia, you can produce stunning and professional-looking videos in three easy steps. First, you record your screen – anything you want to be recorded on your screen, you can. Then, splice the recording into video clips, images, audio, and even PowerPoint presentations if you like. Once those are done, you can finally begin editing the video.
Camtasia also features a clean and straightforward timeline interface that makes the entire editing process seamless. This best video editing software lets you combine or split videos, trim them, and speed up or slow down the clips. And, you may also instantly preview your project directly from the video editor. Of, if you want, give your videos more polishing by adding effects through the program's drag-and-drop feature. These effects include titles, highlights, animations, transitions, and so much more.
Camtasia is a software that offers several features for beginners and advanced creators alike, making this among the most versatile one-stop screen recorder and video editing software around. Here are more features to enjoy with Camtasia studio.
Other features of this software include visual and audio effects, transitions, animations, and annotations, among many others.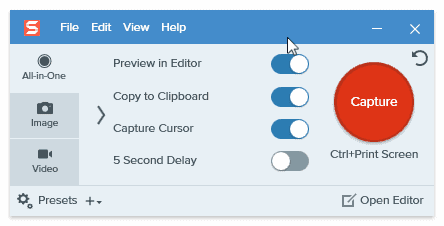 Snagit is more than just your screen recording software. Unlike other screen recording tools, it is equipped with advanced features that include image editing, making your screen captures personalized and unique.
It also makes it possible to capture your screen and videos in a very intuitive manner. You do not need to know any technical stuff. With just a few clicks, you can customize and personalize your screen-captured images and clips.
How to use Snagit? Well, first, you must install it. It is easy to install this tool. You can check out all the tips, instructions, guides, and tutorials from the official website of Snagit. They are all easy to follow.
Talk about the UI or user interface? Snagit is very flexible, allowing you to use its functions, whether it is capturing a particular portion or capturing everything. You can just use your mouse to click on and drag to the areas you want to be captured.
If you are doing image captures, you can decide the area size. Snagit offers the Panorama capture that can capture the whole content of a document or webpage. Believe it or not, you can even scroll while doing so, a feature that other screen recording tools do not have. Once captured, Snagit will collate everything into just one image. They will do it for you.
Aside from those, the tool also lets you screen capture or grab the text. To do this, choose the Grab Text mode. This feature is perfect for those who need to retype or copy a document. In just a few clicks, the new document copy will be complete. This Grab Text function uses a built-in OCR or Optical Character Recognition feature to capture the part of the screen with text.
Snagit also has a great image editing tool. You can use this feature to apply the changes you want to your captured images. You can resize, rotate, crop, or improve a screenshot before you send, post, or save it. Other editing capabilities include blurring parts of the image, adding arrows, putting stamps on a screenshot, placing image annotations, and more.
In addition, Snagit also allows you to explore the color values or RGB of your captured images. You can also add borders, filters, and watermarks, among others.
The image editor also has a Quick Styles menu with properties that are customizable. This is great if you want to apply consistency to the editing of captured images and videos.
Create GIFs Plus More Features
GIFs can also be created using this tool, and captured videos are provided with webcam support. The latter means you can use your webcam while you are capturing videos. Aren't those great?
But wait, we have more. Finally, Snagit also makes it possible for users to enjoy correcting their images' orientations based on how they want them. To do this, simply use the batch conversion feature for images.
Avail Of The Exclusive Deals At TechSmith
Camtasia and Snagit both come from TechSmith, a software company that develops screenshooting, screencasting, and video editing software for Windows and macOS. It was founded in Michigan in 1987 by Wiliam Hamilton.
Camtasia is now at only $239.99 from its original price of $299.99. When you buy this, you get one lifetime license and first year of maintenance.
On the other hand, Snagit is now at only $50.39 from its original price of $62.99. This comes with one lifetime license and first year of maintenance.
You can try both of the software for free.
Or, if you want to save more, you can get both of the software at a much more affordable price. The Camtasia and Snagit bundle is now at only $263.99 from its original price of $362.98. It comes with one lifetime license and first year of maintenance.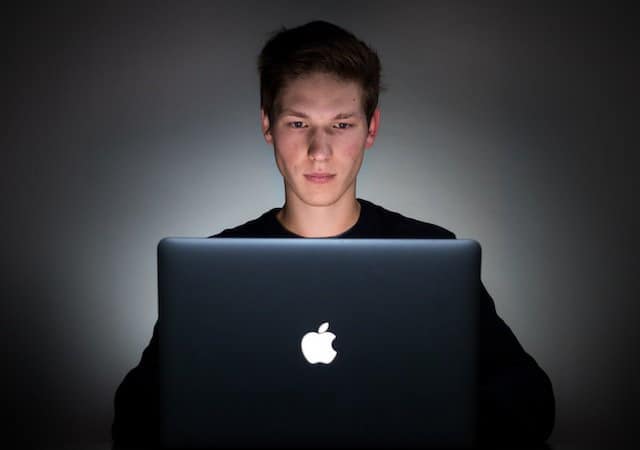 Let Us Answer Some Questions About The Topic On Quora
Is Camtasia A Good Video Editing Software?
Yes. With all the features Camtasia can offer, it is a good editing software. However, the editing capabilities are very basic, so if you need videos that are more professional-looking, you might need to consider other video editing software such as Adobe Premiere Pro.
The features of Camtasia include templates and themes, favorites and presets, transitions, annotations, quizzing, PowerPoint integration, web camera capture, and audio and music.
You can also enjoy these features with Camtasia: cursor FX, screen recording options, simplified editing, pre-built assets, iOS capture, audio FX, closed captions, device frames, video table of contents, media import and export, and so much more.
Which Mac Would You Recommend For Video Editing/Video Production?
If you are using or want to use a Mac device for video editing and video production, know that not every Mac is the perfect choice for these purposes.
The best Mac for video editing and production is either the 14-inch and 16-inch MacBook Pro.
These two newest MacBook Pro units are identical except for the display size. Both of them feature the all-new Apple M1 Pro or Apple M1 Max chips, making them the fastest MacBook Pros to date. You need a fast device for editing videos.
Plus, videographers will appreciate the Liquid Retina XDR display that features mini-LED, up to 1000 nits sustained full-screen brightness, 1600 nits peak brightness, and P3 Wide color.
These devices also have ProMotion technology for adaptive refresh rates up to 120Hz. These are the first Apple laptops in a generation to go beyond USB Type-C Thunderbolt ports, for which there are three. The models also include an HDMI port, MagSafe 3 port for charging, and SDXC card slot to attach your accessories.
What Is The Best Computer Set-Up For Video Editing?
We are glad to answer your question. Remember that you need these features in a computer setup when you can to edit videos.
For the memory or RAM, you need eight to 64 GB RAM or as much as you can afford. Ideally, it should be at least 16 GB.
Look for multi-core Intel i5, i7, or i9 for the processor. i9, however, is the best.
For the storage, it should be at least 256 GB hard drive, 7200 RPM, and preferably SSD, which is the fastest. HDD also works well.
Your graphics card will depend on the video editing software you will use.
Is Camtasia The Best Solution For Making And Editing Videos On Windows?
We are not going to say Camtasia alone is the best solution for making and editing videos on Windows. But, it is inarguably one of the best in this category.
If you are looking for video editing software for Windows, you can check out PowerDirector Essential, Blender, and HitFilm Express, among many others. They are for free.
Camtasia is a video editing software for a wide range of projects, including video tutorials, meeting recordings, video lessons, explainer videos, how-to videos, YouTube videos, webinars, presentation recordings, software demo videos, training videos, instructional videos, and so much more.
What Is The Price Of Camtasia Studio Video Editing Software?
Like what you have learned a while ago, you can get Camtasia for only $239.99 from its original price of $299.99. When you buy this, you also get one lifetime license and first year of maintenance.
Camtasia Studio is a video editing software developed by TechSmith. It is very easy to use, without requiring technical knowledge from its users. You can start with a template, or record your screen and add special effects.
Designed for high-quality video production, Camtasia Studio lets you create content that viewers will actually watch.
Video Production At Your Fingertips With Camtasia And Snagit
Without a doubt, Camtasia and Snagit by TechSmith are two of the best video editing software that have been helping individuals and businesses alike attain their goals.
Plus, if you combine Camtasia and Snagit with an app to add music to video and your music video maker app, you can just imagine the results that you can garner.
If you are worried about their cons, their pros actually outweigh the cons, so you can still get the results you want as you use these software.
Do not waste any moment with your clients. Now is the time for you to utilize the unparalleled potential of videos, and what they can do for your aspirations. Maximize everything.