QR codes are everywhere nowadays. Unlike in the past, when QR codes are just beginning to enter the markets, they are almost found anywhere posted in malls, restaurants, retail stores, local businesses, business cards, and even museums, plus many other places. If this is the first time you are hearing about QR codes, they usually are square images that contain smaller squares in colors of black and white, usually.
A QR code stands for "Quick Response," and is a machine-readable code consisting of an array of black and white squares, commonly used for storing URLs or other information that smartphones read or scan. QR codes are relatively young, as they were invented only in 1994 by the Japanese automotive company Denso Wave.
For anybody to fully experience what a QR code can provide, they must have a QR code scanner on their mobile devices. Sometimes, a simple scan with the normal phone camera can work, but sometimes, it does not. However, if yours is a business that wants to create a QR code for your customers, what you need is the right QR code generator. One of the most efficient QR code generators today is SQR. This is one of the many QR code generator reviews that you should not dare miss.
SQR is the ultimate tool you will need to create dynamic QR codes. But it actually does more than that. You can turn SQR into a complete marketing machine that works for you and your business.
This platform provides everybody using it with a personal dashboard where they can save their custom dynamic QR code or the QR code image they have generated. You can do this with no hassles, in just a couple of minutes. No reprints are needed with the dynamic QR code that this tool generates. And, you can anytime change the destination of your QR code via your personal dashboard.
You can use SQR to create static QR codes for free with a free account. You can even save a few QR codes with this account. Furthermore, you can customize your QR code's design according to your branding, such as giving them a gradient and selecting from various styles that this tool provides. Not only these, but with dynamic QR codes, you can track all the important data you need via your personal dashboard. Isn't it superb?
QR Code Formats Available At SQR
Know that QR codes are designed in various formats, whether you want a person scanning the QR code to be directed to a URL after scanning the QR code, or direct them to contact information in a virtual business card.
You can use SQR to generate QR codes in these formats: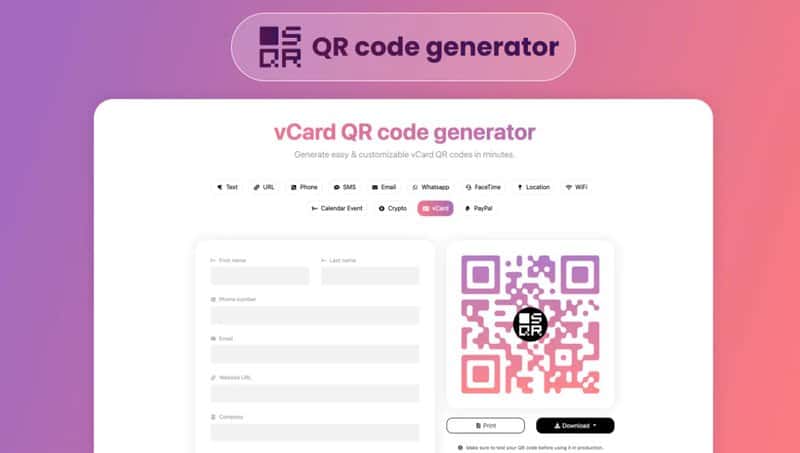 Features You Will Love With SQR
Here are the features you will love about SQR, from the built-in QR templates to custom domains.
13 Built-In QR Code Templates
Users can get 13 built-in QR code templates or the QR code formats you have learned in the previous section so you can get started right away. SQR has the QR code you need for your business.
SQR never stores any data from your created QR codes, well except those that you save in your account, willingly.
With SQR, you do not just create the QR code you need. You can also design it, so it follows your brand in terms of colors or maybe placing your company logo.
Available in SQR are tracking pixels for Facebook, LinkedIn, Google Analytics, Google Tag Manager, Twitter, Pinterest, Quora, and TikTok. With this, you are on top and ahead of your actions in your business.
SQR also provides a way for you to create projects with custom label colors, so you can easily manage and categorize not only your QR codes but also your links and pixels.
Do you want to connect your own domain instead of using SQR's predefined domains? You can get the best of both worlds with this tool, so when customers scan your QR code, they see a familiar and easy-to-recall URL.
Plus, Here Are The Smart Features That SQR Offers
Aside from the features you learned about above, SQR is also packed with smart features. Let us take a look at each of them.
With SQR, you get trackable shortened URLs with your own branding. You can utilize your own customized domains and set your very own back-half of your shortened URLs.
Design and save your QR code image according to the foundations of your brand. Want to add your logo to the QR code? It is possible here at SQR.
Lastly, you can connect your very own custom domains to SQR, so when customers scan your QR code, they see a URL that they can easily remember.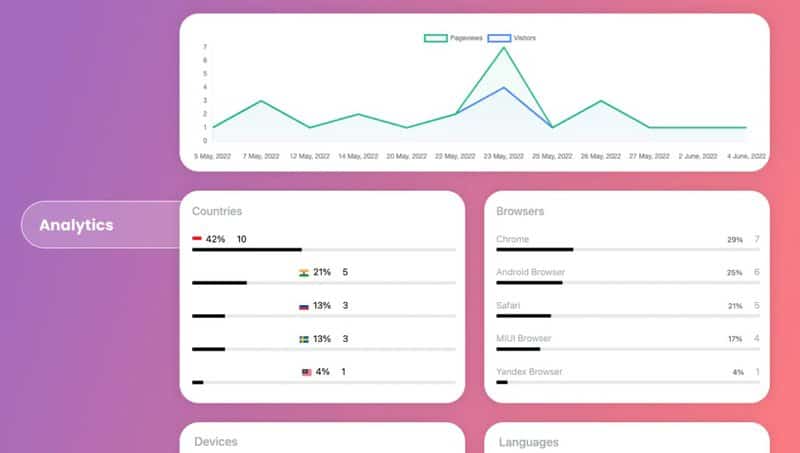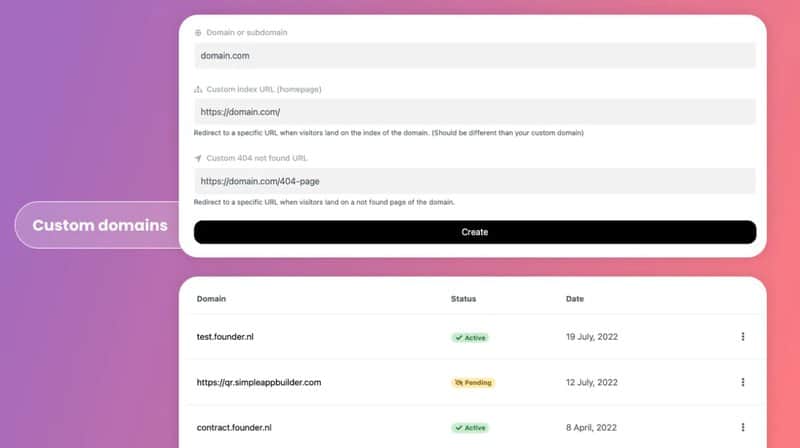 While SQR is available for you to try for free, you are advised to purchase its subscription packages to enjoy more of its features.
First off, you can choose whether you want the monthly or yearly payment option. For the monthly option, you can have SQR for free, or choose between Starter and Ultimate. The Starter pricing tier is $15, while the Ultimate pricing tier is $30.
For the yearly option, you can get started with the free tier if you want to determine whether this is a good tool for you. Or, get more features with the Starter pricing tier at $135, or the Ultimate pricing tier at $270.
If you want to save on your purchase, choose the yearly option. Take a look at the features in each of the pricing options by visiting this link.
Most Searched Quora Questions On QR Codes Answered!
You can read below the most searched questions on Quora about QR codes and so much more.
1. Is It A Bad Idea To Put QR Codes On A Business Card?
No, absolutely not. If someone is telling you it is a bad idea to place QR codes on a business card, do not believe them. In fact, this setup and design is the trend today.
Virtual business cards allow you to share not just your name, phone number, and email since you have all the space to utilize. You can add social media profiles, logos, pictures, videos, PDFs, and a whole lot more. And, you can update the information on that business card any time.
And if you want others to access your business card without having to rummage through their wallets and pockets, use a QR code to share your business information.
2. Are QR Codes The Best Way To Share A Link?
Yes, QR codes are among the best ways to share a link. QR codes can be displayed anywhere, and people can use their smartphones or their device's camera to easily scan these codes, so they can access the information in that QR code right away.
Wondering how you can create a QR code so you can share a link? Use a QR code generator. You can create a QR code without the technical knowledge or coding required.
3. What Are Some QR Code Tattoo Ideas?
Weird as it may sound, several people like to get QR code tattoos. QR codes are scannable images that have various square-like designs. People can scan them using their smartphone's camera. However, for something that will be permanent, why would people choose a QR code design as their tattoo? Well, for some, they want others to see a glimpse of their personal lives since many QR code tattoos link to family photos and other personal reminders. Interesting, right?
Some of today's most popular QR code tattoo designs are: QR code tattoo for couples, QR code tattoo on upper arm, minimalist QR code wrist tattoo, Spotify QR code tattoo, and QR code tattoo with dates. Do not be constricted with this list, because there are many other QR code tattoo designs you can try.
4. How Do I Create My Own QR Code Generator?
Interesting question. You want it the hard way, yes? It is because without creating your own QR code generator, you can already be able to generate several QR codes using the many available QR code generators around, like SQR. However, if you want to create your own QR code generator, you will need knowledge of programming so you can create a software or an app, or you can consult experts on this.
Is SQR A Great QR Code Generator For You?
QR codes are very beneficial for any business. Among the advantages of QR codes for businesses include providing a way to promote sharing and networking with your business partners and customers; providing a call-to-action, say when you want to urge a customer to buy your product; enhancing your social media and search engine optimization; connecting to your customers even when offline; and a whole lot more.
With the many features that SQR offers plus the various formats into which you can generate your QR code, this tool is at the forefront of giving entrepreneurs what they exactly need.
Whether you want a QR code PNG, QR code stickers, or a QR code tattoo, you can use SQR to perfectly generate the most powerful QR codes for you. Join the many businesses that have been using QR codes to further engage their customers.