Amazon PPC or Amazon Pay-per-Click advertising is part of the advertising system of the world's biggest eCommerce platform. Through Amazon PPC, agencies, brands, and third-party sellers are able to target specific keywords to create advertisements for their products, which appear in the search results and competitor product listings of Amazon.
Amazon PPC campaigns are very important. Running PPC campaigns for your keywords helps in building visibility. Having the first-page result for those keywords not only brings in more sales but also increases your product's organic ranking for the keyword over a period. Products that have garnered the most sales are automatically on top of the search results.
However, it is also a fact that managing your Amazon PPC campaigns involves a lot of heavy work. So how can you bridge the gap? You use software like SellerMetrics. In this review, we are going to dig deeper into what SellerMetrics is all about, and what it can do for your business. Read on.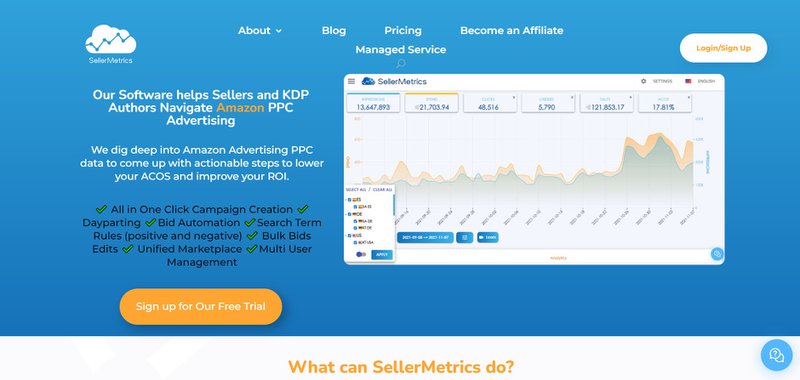 Well, we are not going to stall you any longer. SellerMetrics is an Amazon ads optimization software that can lessen the time needed on Kindle Direct Publishing or KDP ads by 80 percent, and at the same time, lower advertising cost of sales or ACoS by 30 percent.
This software best serves eCommerce vendors on the Amazon marketplace by automating and optimizing their workflow. SellerMetrics supports all Amazon marketplaces, as well as seller and KDP authors, as what you have read about a while ago.
Some of SellerMetrics's features include customizable reporting, 24/7 bid automation, manual and auto target harvesting, manual and auto negative target, bulk manual optimization, and so much more.
"Our tech takes care of Amazon advertising so you don't have to," says SellerMetrics.
You will learn more about what SellerMetrics can do up next.
Things That SellerMetrics Can Do
SellerMetrics is touted as the next-generation optimization software. This software supports both automated and bulk manual bidding workflows that allow for easy deployment of complex campaign categories. It is really about helping on the heavy workload. Here are the things that SellerMetrics can do.
SellerMetrics has a sponsored ranker feature that allows its users to focus on making sure your sponsored keyword ranking is at the top. SellerMetrics considers this feature as its most popular growth tool yet.
2. Advance Automatic Bidding
SellerMetrics has advanced algorithms designed to automate bidding 24/7. Thus, it ensures your bids are fully optimized based on your ACoS goals and targets.
3. Consolidated Account Management
SellerMetrics is capable of consolidating all your Amazon marketplace accounts. With this feature, you can optimize all your marketplace in just one session. Incredible, right?
4. Search Term Harvesting
With this feature, you can set up rules to trigger search terms to add to one to several campaigns automatically.
With this, you can decide how to efficiently allocate your advertising spend by selecting the enabled date and time of your campaign. It works for all types of Amazon ads.
Amazon Advertising Types Supported By SellerMetrics
Actually, SellerMetrics, together with its features and automation, supports all Amazon advertising types:
How Affordable Is SellerMetrics?: SellerMetrics Price
In here, we are going to take a look at the pricing of SellerMetrics. How much should you budget to acquire this software?
SellerMetrics' subscription pricing options are based on your monthly ad spend. For a monthly ad spend of $1 to $4,000, the monthly subscription is $60. Meanwhile, for a monthly ad spend of $4,001 to $10,000, the monthly subscription is $120. For a monthly ad spend of $10,001 to $20,000, the monthly subscription is $230.
Moreover, for a monthly ad spend of $20,001 to $35,000, the monthly subscription is $300. For a monthly ad spend of $35,001 to $50,000, the monthly subscription is $380. For a monthly ad spend of $50,001 to $100,000, the monthly subscription is $550. Every additional $50,000 in your monthly ad spend entails an additional $50 on the monthly subscription.
Enjoy the following features for all the tiers mentioned above:
In addition, all the plans enumerated above come with a 14-day trial. This will help you determine if SellerMetrics is the right software for your needs.
See how we answer some of the community's questions on Quora about our discussion today.
What Is The Amazon PPC Strategy For A New Product Launch?
Product launches on Amazon are a very hot topic for any brand or seller looking to grow its business. It takes time, money, and focus, so it should be done perfectly. Here are the steps involving the Amazon PPC product launch strategy.
Keywords And Competitor Selection
First, consider your keywords and competitor selection. A prerequisite of a successful product launch is having a perfect listing. The best Amazon product pages have a concise title that has the main keywords, a vivid description, and bullet points that also include the main search terms. Uploading appealing product images is also important.
Second, mind the "honeymood period." When launching a product, Amazon's algorithm gives a chance to any new product. This chance is given at the search term level, which means that you need to let Amazon's algorithm know that your product is relevant to a subset of search terms. Using the right keywords in your listing is one way of giving this signal. Another way to do it is through PPC. And the last way to do this is through search-find-buy on these keywords.
Keyword Tracking And Visibility Against Performance Balance
Third, it is important to track your keywords, or known as keyword tracking.
Fourth, you should have visibility against performance balance. When doing a product launch, there are two ways of configuring it. The first is forcing product visibility. The idea here is to set a budget and increase bids very high until your product is on page one. The metrics to focus on are the spent budget and the sponsored rank of the product. This will provide exposure that will help gather information if users are clicking and buying the product. The second is optimizing for the ACoS. The idea here is to set an ACoS target that should also be high. The bids must be adjusted to maintain the ACoS. Remember your strategy: combine these two tactics.
Fifth, you have to think about your budget. The budget depends on the PPC cost of the category and the market.
Sixth is this. At this stage, forget about your ACoS, and concentrate on the TACoS or the target ACoS.
Following these, you should be able to launch your products with a good Amazon PPC strategy.
What Are Some Ways To Increase Amazon Pay-Per-Click (PPC)?
Here are some tested and proven ways to increase your Amazon PPC:
What Is The Amazon PPC Campaign?
Also referred to as Amazon PPC advertising, Amazon PPC campaign is part of the platform's internal advertising system. Through Amazon PPC, brands, agencies, and third-party sellers can target specific keywords to craft advertisements for their products, which appear in the search results of Amazon and competitor product listings.
What Are The New Tricks Of Amazon PPC?
Some of the newest tricks and strategies you can implement for your Amazon PPC include: going for interest targeting, A/B testing multiple ads, creating a diversified bidding strategy, adding keywords, optimizing your product listings, trying brand video ad, and building similar product ad groups.
How Do I Make A Great Amazon PPC?
To make a great and solid Amazon PPC, take heed of the following aspects to implement. First, test out each type of your PPC ad campaign, and play around with automatic and manual keyword targeting so you see what is best for your brand. Second, perform a detailed keyword research, focusing both on related keywords and competitor products.
Third, remember this when just starting out. Set daily budgets and default bids 50 to 100 percent higher than what Amazon recommends. Fourth, allow ad campaigns to run for at least two weeks before running reports and making adjustments.
Fifth, use ad reports from your automatic campaigns to look for keywords for your manual campaigns. Sixth, prior to adjusting or removing a keyword from a manual campaign, ensure the keyword gets at least 10 clicks. Lastly, keep reviewing your ad reports once a week, adding, subtracting, and adjusting keywords when necessary.
Without a doubt, SellerMetrics is a promising software that can do the management of your Amazon PPC campaigns. Some of the things SellerMetrics can do include:
Plus, SellerMetrics is also very affordable. With SellerMetrics, you are sure to accomplish all your business goals. Try this software today.