New Samsung Galaxy Tab S8 case products are both trendy and hot in the market right now. They offer protection for the Samsung Galaxy Tab S8, one of the latest releases of the South Korean multinational tech company, and is fast-forward when it comes to its design and features. Let us take a look at the five best Samsung Galaxy Tab S8 case products with this list.
Before We Head Over To The New Samsung Galaxy Tab S8 Case Top Choices, Let Us Learn About What It Protects
The New Samsung Galaxy Tab S8
The Samsung Galaxy Tab S8 pertains to a series of Android-based tablets designed, developed, and marketed by Samsung Electronics. Launched at the recently concluded Samsung's Galaxy Unpacked event on February 9th, 2022, these gadgets serve as the successor to the Galaxy Tab S7 series.
Samsung has done it in style yet once again. Though its Galaxy S22 series may be the latest showstopper, Samsung has revealed in the event three new flagship tablets in the Tab S8 Series. Like its smartphones, this now includes three variants – the Tab S8, the Tab S8+, and the brand-new Tab S8 Ultra.
There are actually a lot of things to talk about when it comes to the Tab S8 series. There are several features and specifications common to the newly-released tablets.
Perhaps the most exciting is the Snapdragon 8 Gen 1 processor under the hood. It was only two months since Qualcomm unveiled its latest flagship chip, but the Samsung Galaxy Tab S8 series is already taking advantage of its amazing power and capabilities.
While other display specifications vary between units, all three tablets also have 120Hz screens. Users are getting the same dual rear cameras, consisting of 13Mp and 6Mp ultra-wide. However, it has been said that these features still do not rival the Samsung Galaxy S22 smartphones or many other flagship handsets from the company in terms of image quality.
There are also more features consistent across all three newly-released tablets. They include Wi-Fi 6E and 5G support, fast charging via USB-C up to 45W, quad stereo speakers, and an S Pen stylus in the box. The latter though is unchanged compared to the Tab S7 series.
When it comes to the software, there are also significant developments. All the Tab S8 devices run Android 12 out of the box, but Samsung has now committed to "up to four years" of OS updates, together with a further year of security updates. This makes it among the most generous Android manufacturers in the market when it comes to software.
This Tab S8 series is also expected to be one of the first in line for Android 12L, a version of the operating system particularly designed for tablets and foldables. This helps the software feel better optimized for the larger displays, which many onlookers consider something Android tablets have often struggled with.
Now that has been an objective take on the Samsung Galaxy Tab S8. This time, let us take a look at the best new Samsung Galaxy Tab S8 case products that you should consider buying.
Top 5 New Samsung Galaxy Tab S8 Case Products
Now, let us head over to the main part of why we created this article, as we introduce the top five new Samsung Galaxy Tab S8 case products. In this list, you will get to know more about these best picks. Plus, there will also be a discussion of the pros and cons. Are you ready? Here is the first new Samsung Galaxy Tab S8 case in the rundown.
1. ProCase Galaxy Tab S8 2022 Case With S Pen Holder
This new Samsung Galaxy Tab S8 case from ProCase is without a doubt a front-runner. It is a heavy-duty protective case for your Samsung Galaxy Tab S8 2022.
This particular product features a 360-degree rotatable kickstand that offers an optimum position for typing or viewing. Aside from this, it also has an ergonomic and comfortable back handle that lets the user grip the tablet securely and steadily using only one hand, without worrying about dropping the device leading to damage.
It likewise has an adjustable and removable shoulder strap that offers the ultimate convenience when carrying the device around. You can even mount it to your car headrest for back seat hand-free viewing, which is perfect for working and studying while traveling by your car.
This new Samsung Galaxy Tab S8 case also has an advanced three-in-one construction with premium polycarbonate or PC and shock-absorbing thermoplastic polyurethane or TPU, offering comprehensive protection for the tablet, efficiently protecting it from accidental drops, shocks, skids, and scratches.
Plus, there is also an extra cut-out for the S Pen. You can attach the S Pen magnetically, charged wirelessly when the tablet is placed inside the case. It does not hinder the user from accessing the features such as the cameras, speaker, ports, buttons, and more.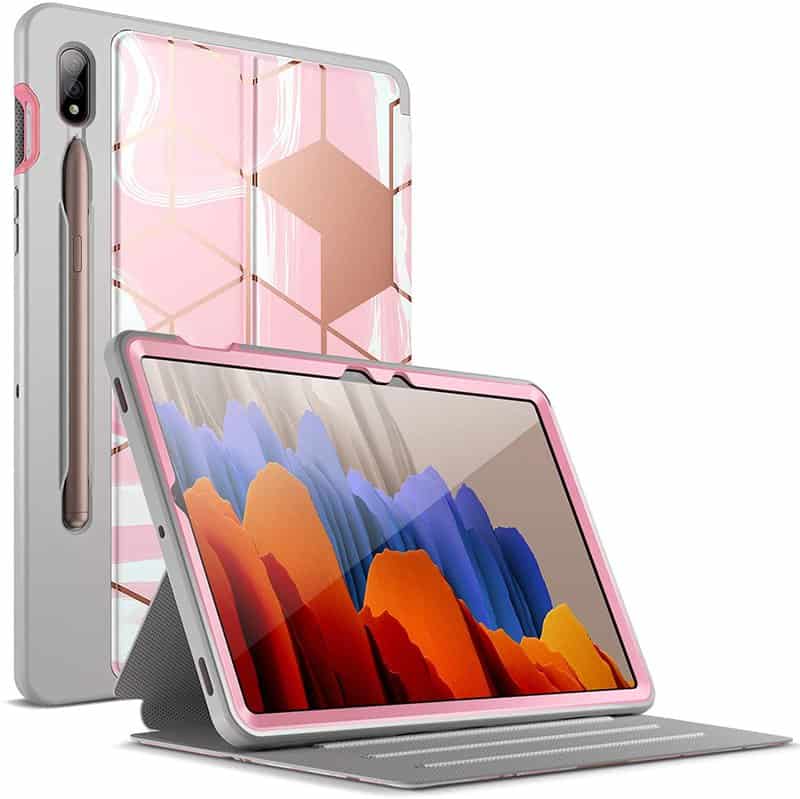 2. Poetic Popshine Marble Series Designed For Samsung Galaxy Tab S7 And S8 Case
From a stunning new Samsung Galaxy Tab S8 case from ProCase is this equally gorgeous case by Poetic. This is a 360-degree protection case for the fashionable and stylish at heart. This case for the Samsung Galaxy Tab S7 and S8 is designed with fashion, functionality, and protection in mind.
It is a full-body 360-degree all-around case that comes with a screen protector and auto sleep-wake function wrapped in its on-trend design folio cover. It gives you the best of both words – sophisticated beauty and utmost protection.
This case has a precise cutout with raised lips. It also comes with easy-to-push buttons around its features while ensuring the most vulnerable areas are protected. Its front casing features an impact-resistant bumper with a screen protector and folio cover. This folio cover also doubles as an adjustable stand for the most comfortable viewing and typing angles.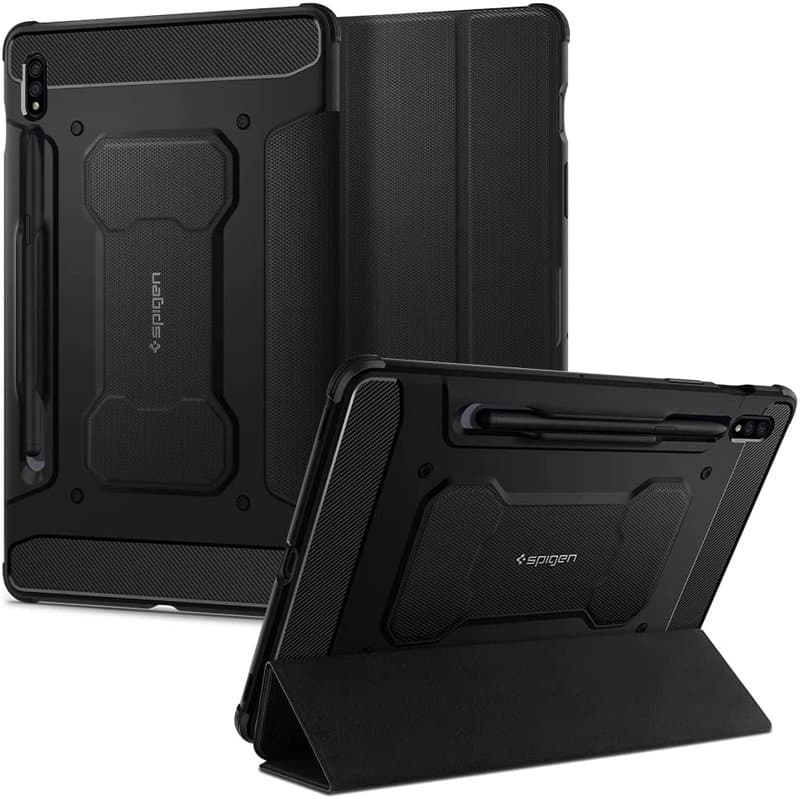 3. Spigen Rugged Armor Pro Designed For Galaxy Tab S8 Case
This Rugged Armor Pro case for the Samsung Galaxy Tab S8 from Spigen is another product you must consider owning. It can be used either in theater mode when viewing videos for instance, or in utility mode, offering the optimum angle for typing and drawing.
This particular product provides full coverage with its magnetic cover that supports sleep and wake functions.
There is also an open cutout for easy accessibility to the tablet's fingerprint sensor. Plus, its smart design provides easy slide access to the S Pen.
One of its glaring features is that it is made with vegan faux leather. This material is durable against scratches, scrapes, and more. It also is easy to clean with just a quick wipe using a wet towel.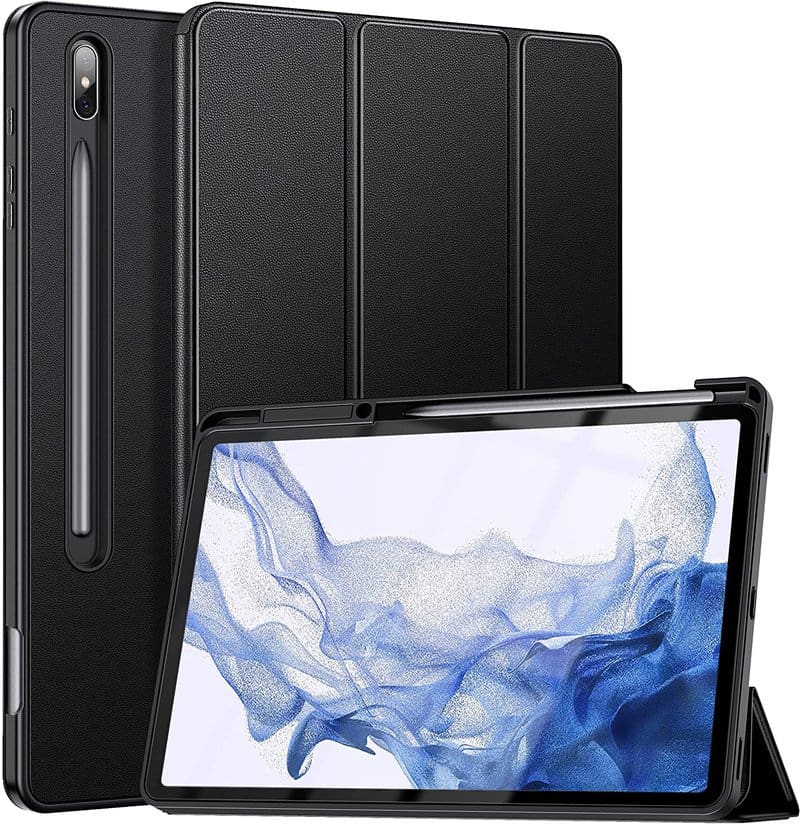 4. Ztotop Case For Samsung Galaxy Tab S8 With S Pen Holder, And Auto Sleep And Wake
Like the other products on this list, this new Samsung Galaxy Tab S8 case from the brand Ztotop also offers powerful features.
First, it has a built-in S Pen slot that offers a secure and convenient place to store the S Pen. You can easily carry and use your S Pen with your tablet whenever you need it. In addition, you can also attach the S Pen to the back cover without taking off the case.
This new Samsung Galaxy Tab S8 case is made with premium polyurethane or PU exterior and a soft TPU back cover, protecting your tablet from shocks, scratches, and dust.
What is special about this case is that it supports the auto sleep and wake function. After you close the case, the tablet automatically sleeps, saving power.
It also has a tri-fold front cover with dual standing positions, providing two angles for viewing or writing.
5. Ztotop Case For Samsung Galaxy Tab S8 And Other Units With S Pen Holder And Stand Cover
Last on our list of the best new Samsung Galaxy Tab S8 case products is another case from the Ztotop brand but has a different design.
This particular product is made with soft microfiber lining and PU leather, prevening scratching with the tablet.
It is also slim and lightweight, lightening the load of your hands. You can likewise quickly install and remove the case.
The product has built-in strong magnets to ensure a strong lock between the case and the table. It also has stable viewing angles when you need the tablet for keyboard typing or movie viewing.
Moreover, this magnetic smart cover supports the auto wake and sleep function, saving energy and providing you with a long-lasting battery.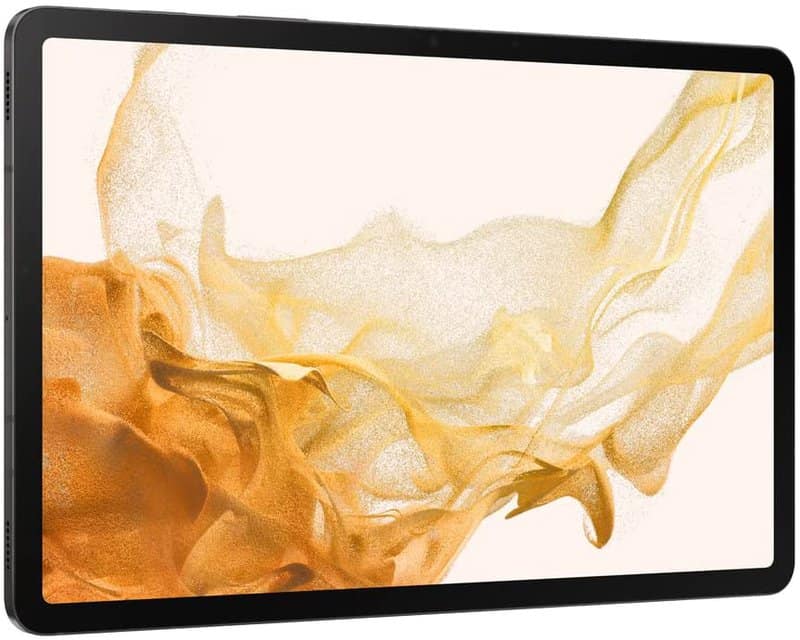 Without the new Samsung Galaxy Tab S8 case, you are more likely lessening the time the tablet will last you because cases for any gadget are designed to protect them from damage. You can find Samsung Galaxy Tab S8 case products that are posh in the design and those that are minimalist-looking, plus more. There are various things to consider when choosing the perfect tablet case. These include its ruggedness, weatherproofing, mounting, accessories, screen protectors, security, port accessibility, and materials. Be sure to take heed of these tips.
The Samsung Galaxy Tab S8 is still available for you to shop, and it is highly unlikely that stocks are going to run out because they are just newly launched. You can check it out in official Samsung stores, outlet stores, shopping malls, and online stores like Amazon.
We hope you learned a lot from our list of the best new Samsung Galaxy Tab S8 case. This should have provided you with a better idea when you are about to buy the case for your Samsung Galaxy Tab S8.
To learn more Top 5 Best Products lists, please visit us.