Lion Face drawing tutorial: Step-by-Step Tutorial
If you've ever wanted to learn how to draw a lion face, look no further! We'll guide you through the process, step by step, so that even beginners can create a stunning lion drawing. Before we begin, make sure you have a pencil and paper handy, and you're ready to let your creativity flow!
Get Wild and Creative with These Magnificent Lion Face Coloring Pages!
Coloring books can open up endless possibilities - that is certainly true of this amazing PDF full of five different lion faces! Each page contains a detailed 8.5 x 11-inch drawing of a lion, with intricate patterns that will spark your imagination and bring out your creative side. Explore the majestic grace and power of these beautiful creatures by coloring in different shapes and lines, bringing out the beautiful shades of grayscale. Create something magical and unique - your artwork is sure to be a conversation piece no matter where you display it! Enjoy the wild side of life with these incredibly majestic lion-face coloring pages!
The Basics of Drawing a Lion Face
Step 1: Draw Basic Shapes to Create the Lion's Head
Start by drawing a large circle for the lion's face. Draw a horizontal line across the center of the circle to mark the placement of the lion's eyes. Then, draw a smaller circle on the bottom right side of the larger circle to make the lion's snout.
Step 2: Add Details to the Lion's Head, Like the Nose and Mouth
Next, add a curve above the snout to give shape to the lion's nose. Draw two circles to make the eyes, with a small dot in each to add detail. Draw a curved line below the eyes, which becomes part of the mouth, and also draw the chin.
Step 3: Create the Lion's Mane
Now it's time to add some character to the lion's face by creating its mane. Draw two rounded ears at the top of the head and a curved line towards the bottom of the lion's face where the mane will start. From there, draw clumps of fur using vertical, slightly wavy lines to fill in the mane. Don't worry about making it perfect – the lion's mane should be wild and untamed!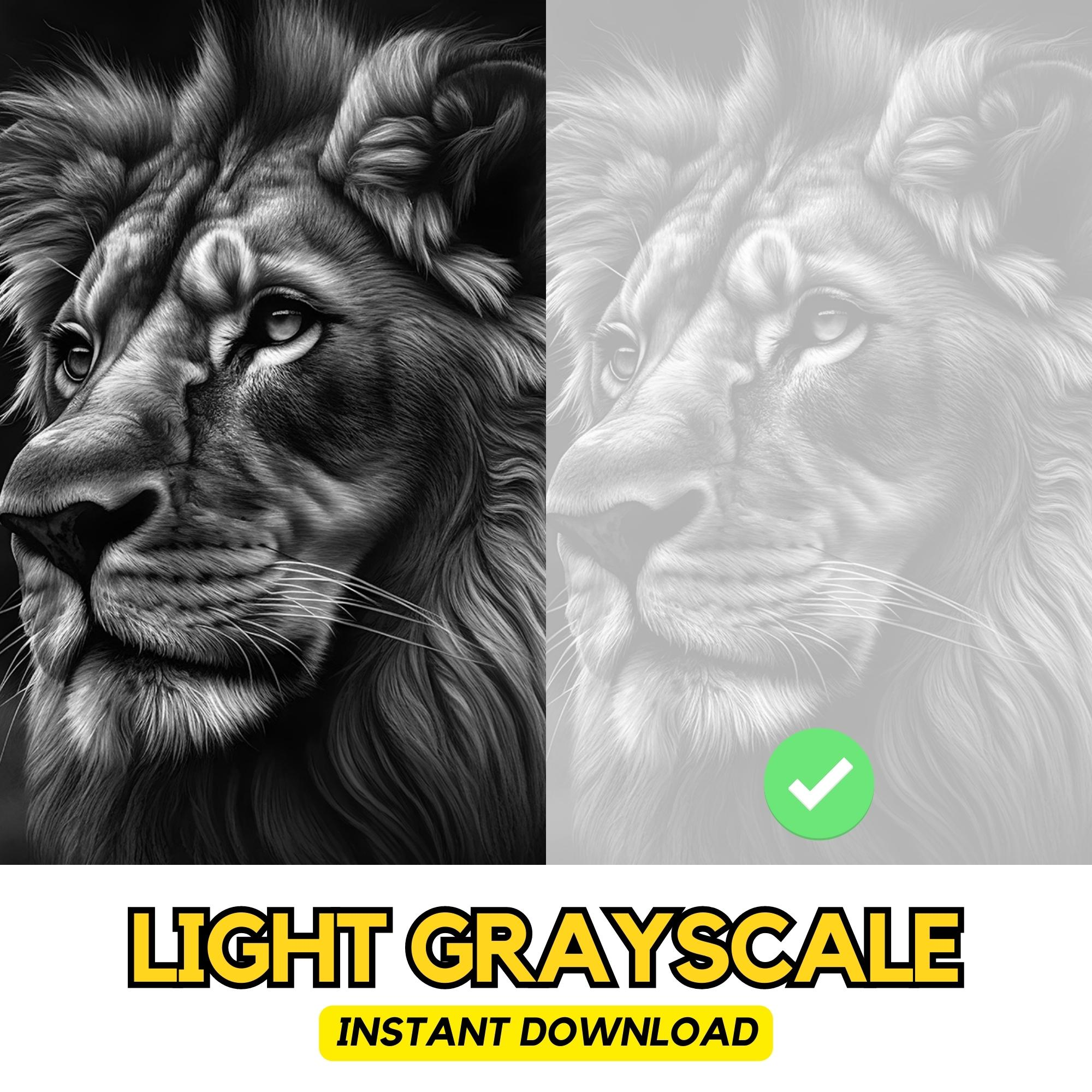 Step 4: Add Symmetry to the Face and Ears
To refine the lion's face, start by drawing the other ear, so that it's symmetrical with the first one. Then, add a horizontal line to the top of the head to define where the mane starts. Draw a vertical line through the center of the lion's face to mark the symmetry, and add construction lines from the center line out to the mane, which will help you to place the eyes and nose later.
Step 5: Draw the Lion's Whiskers
The next part we'll draw are the lion's whiskers. Draw a curved line extending out from the nose on both sides of the face, and add several smaller lines coming off each of these "whisker dots".
Step 6: Add the Lion's Fur
We'll continue refining the lion's mane by drawing fur to the other parts of the face. Use quick, short lines to sketch fur into the rest of the lion's face, filling in the area around the mouth, nose, and eyes.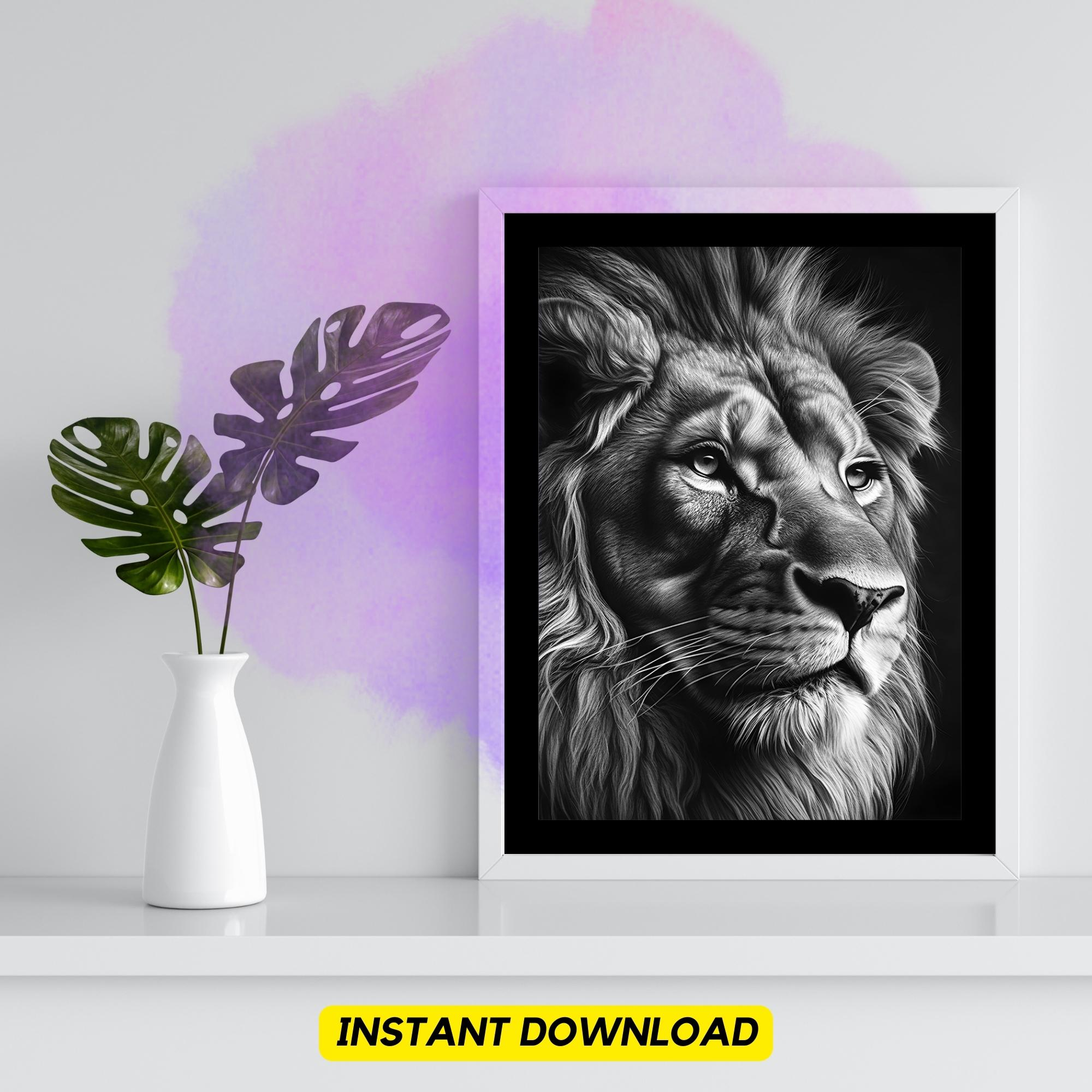 Final Touches to Complete the Lion Face
Step 7: Shade the Lion's Eyes and Nose
Now that the lion's face is well defined, it's time to start adding some shading. Begin by shading the pupils of the lion's eyes with a pencil, leaving a small dot in each one for highlight. Shade the round part of the lion's nose, and the area around it, to make it look more realistic.
Step 8: Color the Lion's Mane and Whiskers
Finally, you can color in the lion's mane and whiskers to give it a realistic look. You can use browns, yellows or oranges to make your lion's mane look more natural. Don't forget to add some highlights to the fur to make it look more realistic!
Downloadable Lion Face Drawing Guide
PDF Download of Lion Face Tutorial
If you want some more help, you can download our lion face tutorial pdf for an easy-to-follow guide.
Printable Step-by-Step Tutorial for Drawing a Lion Face
We also offer a printable step-by-step tutorial for drawing your lion face. With this guide, you can get started on this fun and creative project right away!
Tips and Tricks for Drawing a Lion Face
Understanding Facial Features of a Lion
Understanding the facial features of a lion is the first step towards effectively draw a lion face. Their characteristic facial features such as their mane, fur, and whiskers, make them such an interesting animal to draw.
Learn How to Draw Basic Lion Face Shapes
To draw a lion face, there are some basic shapes you need to add to create the right proportions. As a beginner, you may find it easier to use basic shapes like circles, half-circles, and curves to get started.
Easy Lion Face Tutorial for Beginners
Our step-by-step tutorial ensures that beginners will be able to draw a lion face easily. Just follow each step and before you know it, you'll have a beautiful lion drawing!
To sum up, drawing a lion face can be challenging but with patience and practice, you will be able to create stunning artworks that are sure to impress. Use the tips and tricks we've provided here, and don't be afraid to experiment with different techniques to create the perfect lion face. Happy drawing!
FAQ - Lion Face drawing tutorial
Q: What is this tutorial about?
A: This tutorial is about drawing a lion face step-by-step.
Q: What is the difficulty level of this tutorial?
A: This tutorial is easy to follow and perfect for beginners who love creating art.
Q: Are there any basic shapes involved in the tutorial?
A: Yes, the tutorial involves drawing basic shapes such as circles.
Q: How many steps are involved in this tutorial?
A: There are eight steps involved in this tutorial.
Q: Is the tutorial symmetrical?
A: Yes, the tutorial is symmetrical so that the lion face looks natural.
Q: Can I download a PDF of the step-by-step tutorial?
A: Unfortunately, there is no PDF available for download at this time.
Q: What facial features are included in the tutorial?
A: The tutorial covers how to draw the lion's mane, fur, whiskers, nose and mouth, and chin.
Q: How do I draw the whiskers?
A: The tutorial provides a step-by-step guide on how to draw the whiskers, ensuring that they look natural.
Q: Is there a printable version available for this tutorial?
A: Yes, you can easily print out the tutorial to follow along with the steps.
Q: Should I erase the previous step before moving on to the next?
A: Yes, it's important to erase any previous lines that may get in the way of the next step.
Mastering Drawing Made Easy at iARTidea Art Cafe
Discover the creative empowerment that comes from iArtidea Art Cafe! Our digital downloads are designed to make creating art easier and more enjoyable than ever. With the perfect combination of quality materials, reliable technology, and unbeatable prices, our coloring books and drawing practice downloads are the perfect way to explore your creativity and ignite your imagination. Whether you're a beginner or a seasoned artist, our downloads will give you the tools you need to step up your game. So why wait? Explore your inner artist today with iArtidea Art Cafe!