Creatives are aware and know that Photoshop is the go-to image editor when it comes to enhancing their visual content. But Photoshop is hard to learn, whether you admit it or not. There are now a whole host of different options that have dominated the market, including both free and paid-for options.
It is also interesting to note that the best photo editing software and online photo editor today are unrecognizable from the best image editors just a few years ago. Because of intuitive artificial intelligence or AI, mundane photo editing tasks that once took hours can now be done in just one click, or a few clicks, leaving you more avenues to do real creative things according to how you want them. In short, there is never been a better time to update your professional photo editing software than now, and this is why we have picked our favorite image editors available today.
What are the best photo editing apps today? Read on to find out.
Today's Top 3 Easy-To-Use Image Editors
Some photo editing apps and software like Photoshop really require you to know a little bit of the technical stuff. This is why some entrepreneurs just outsource graphic designers to provide them with visual content. But isn't this costly? Here are three of today's best image editors that require zero technical knowledge. You can create professional-looking images yourself.
In each of these, we will present you with an overview of the tool and a glimpse at its features. Let us start with PhotoKit.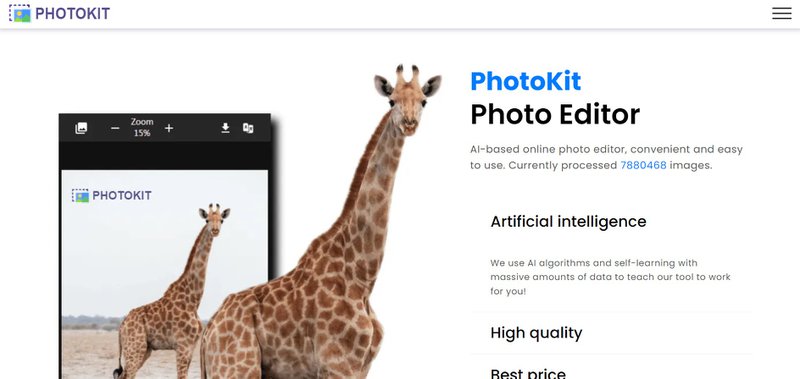 PhotoKit is integrated with a very powerful online image editor. This online photo editor comes packed with a myriad of great features to help you perfect your images.
With only a few clicks, you can enhance photos, remove backgrounds, retouch portraits, apply effects, create photo collages, and apply basic edits with ease, such as cropping, resizing, and rotating, and a whole lot more capabilities.
With PhotoKit, you can also batch process your images, whether you need them in PNG, JPG, GIF, and many other formats. Or, you can choose to batch or image process multiple images at once. Other features of PhotoKit include image compressing, converting, and watermarking, among many others.
Here are some of the features you can enjoy when you use PhotoKit:
The second image editor on our list that we guarantee does not require technical know-how as Photoshop does is Duply.
Duply is an automated image and video creation tool (take note that it also works on videos) for marketing and content. This image editor helps you create and deliver your visuals much faster.
With Duply, you can automate your visual marketing and content easier. Edit, scale, and manage images and videos smarter and faster.
This is your ultimate smart automated solution for your visual content creation. It ends the frustration that usually happens between the marketing and the designer. With Duly, you let your designer work on the creative parts, rather than the small revisions. This is a must-have.
Here are some of the features you can enjoy when you use Duply: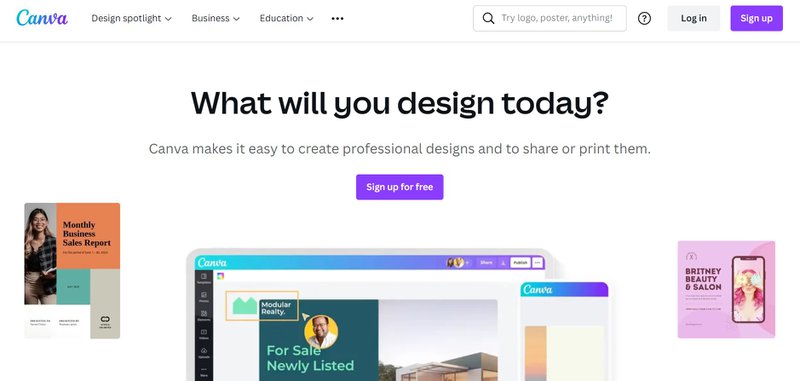 Compared with the rest of the image editor software on this list, you may probably be most familiar with Canva. You are, because Canva is so popular. It is popular not only since it lets you create high-quality and professional-looking visual content, but everybody can use Canva, even those without training in professional graphic design.
Canva is inarguably one of the best image editor tools available around. This online photo editor empowers users to create a wide range of visual content, including the most in-demand social media graphics, presentations, and posters, plus so much more.
It features a simple drag-and-drop user interface, and an extensive library of templates and design ingredients, such as fonts, illustrations, stock photography, audio, and video content. You can even include content from the World Wide Web, such as GIPHY and Google Maps.
And, you can use Canva wherever you go. Canva is available on your browser, iOS, and Android.
Here are some of the features you can enjoy when you use Canva:
Features To Look For When Choosing The Best Image Editor
This time, we are going to take you on a discussion about the features you should look for when choosing the image editor you will use for your visual media. When you are searching for the best image editor, you better be looking for these features. Let us start.
1. Cropping, Resizing, And Rotation
Cropping and resizing are fundamental tools you need when editing images. You may need to crop a photo to eliminate unnecessary portions. Additionally, you may also have to resize its dimensions so you can reduce the file size. Also, rotation is another vital tool when you need to work on the orientation of your photos.
2. Light And Dark Adjustments
Light and dark adjustments are essential if you want better-looking images. The brightness, contrast, highlight, and shadow modifications all pave the way to beautiful-looking photos. Also, there might be instances when you need to quickly fix the exposure level of your pictures, since unwanted lighting may have been used during the time you captured the photos.
Furthermore, all these adjustments will add more personality to your images. In fact, these are the most necessary features when you are editing photos.
3. Noise And Sharpening Tools
Noise reduction features are handy when you want to clear up noisy spaces in your image. Thus, image sharpening is also valuable. This allows you to fine-tune your pictures by increasing pixel quality. Sharpening techniques aim for all the curves and edges in the photo to generate a sharper appearance.
Meanwhile, you can also use noise tools to create those dramatic grainy effects on your images. Moreover, you may also do the opposite of sharpening, and blur your images for a softer and dreamier vibe.
Making sure your images possess optimum colors is key to stunning visuals. Therefore, vibrance and saturation are needed to breathe life into photos and boost dull color tones. Hue, tint, and temperature work in different ways to transform your picture's color schemes. Altering red, green and blue components is a handy tool when fixing color balance.
If you want to give your photos a fresher look, manipulating colors is the way to go.
5. Face Retouching For Portraits
Especially for portraits, face retouching is a vital element. You need this feature in your image editor so it can fix random spots and blemishes on the face of the subject. In addition, there are some photo editors that even let you implement skin color correction and whitening. But for portrait editing, fundamentally, what you need are spot-fixing and brightening tools.
In most cases, cameras are not capable of accurately depicting the face's realistic features. This is why retouching with your image editor is needed. Hence, this face retouching feature helps create a more natural- and realistic-looking portrait.
Being able to select particular parts from your photo is vital, especially when there is a need to remove unnecessary details. Lassos, marquees, and magic pens are essentials. In addition, selection tools also let you copy and paste parts of your image. You can easily remove the image background while keeping the main subject.
However, not all image editors have tools like lassos, marquees, and magic pens, but they have AI-powered tools for photo editing. These image editors are also a great choice.
You have read about watermarking in the previous discussion. Your images are your property, which is why watermarking is considered compulsory for protecting them. Watermarking tools are mostly used to add names, logos, or any other picture you want that identifies with your brand, into the background of your original images. Without watermarks, people can easily take your work and publish it as their own.
Filters are ever familiar to you. You use them a lot on social media. But did you know that filters are also features of a great image editor? With just one click, you can transform your images into attractive pieces of art. Hence, filters are the perfect tool for those with limited time when editing photos.
9. Creating Grids And Collages
Do you need fresh content, perhaps for your social media posts? Grids and collages are the best ways to create fun and engaging content. Many image editor software today provide this feature, so you can instantly make grids and collages for your photos.
10. Addition Of Text And Graphics
When editing photos, text and graphics elements will add context to your images. Aside from professional use, graphics and text are also great ways to liven up your pictures.
There you have it. Those are just some of the essential features you should look for when shopping for the best image editor.
The Most Searched Questions On Quora, Answered!
Quora is the place to be when you want to get answers to your questions, whichever they are about, any topic under the sun. Here are the most searched questions on Quora on photo editing apps and software, plus more.
1. What Are Some Softwares Recommended For Editing png. File?
Editing PNG files sometimes require specific features different from editing other file formats. When it comes to the best software for editing PNG files, the list includes: PhotoDirector, Adobe Photoshop, PhotoWorks, Online PNG Tools, and PaintShop Pro.
2. Which App Is The Best For Editing Photos On PC?
There are many great apps when you want to edit photos on your PC, so choosing just one and leaving out others can be quite a challenge. But if you really want just one app for editing photos on your PC, the best would probably be PhotoDirector Essential.
PhotoDirector Essential empowers creators and creatives of all experience levels when they need to transform their photos into studio-quality masterpieces. It combines Photoshop's powerful editing, enhancement and altering tools, and Lightroom's photo processing and organization functions. It also offers guided modules that will help you in your constant learning.
3. How Do We Edit And Make Our Photo Background Fully Black?
We are going to present two ways to make your photo background fully black. One is via Photoshop and the other is via Canva.
Using Photoshop, you can use a Solid Color Fill Layer to change the background color of your image. In the Layers panel, click on the New Adjustment Layer icon and choose Solid Color. When the Color Picker window pops up, simply select any color you want as you can always change it later, then press OK.
Using Canva, you can start by clicking Background from the editor side panel. If you do not see it, click the three-dotted icon More first. Then, click on a color tile below the search bar to apply it to your design. To select a new color, choose the palette icon, and then Add a new color tile.
4. What Are Some Good Online Photo Editing Sites?
When you do not want to waste your time installing or downloading professional photo editing software, or when you do not want to spend money on paid image editor software, the best way to go is online. Some of the best online photo editing websites are: Canva, Adobe Photoshop Express, Instasize, Pixlr, piZap, Photopea, Fotor, and BeFunky. However, some of these are only available for a limited time, and you may need to purchase them to continue using the platform.
5. What Are The Best Apps For Photo Editing?
When you want to go about editing your photos in the most instant way possible, you turn to apps. Apps work on mobile so you can basically edit photos even when you are away from your desk. Some of the best apps for photo editing are: PicsArt, Snapseed, Adobe Photoshop Camera, Pixlr, Adobe Lightroom, Instagram, Google Photos, Pixtica, Prisma, Facetune 2, Afterlight, VSCO, and TouchRetouch.
Your Visual Content Made Even Better With The Best Image Editor: Conclusion
Whether you are using the best laptop for photo editing or the best computer for photo editing, there are several professional photo editing software that you can use to make your visual content look better, so your audience will stay more with your content.
You have also learned pointers about what features to look for when choosing the best image editor that you will work with. What do you search for in an image editor? Perhaps an easy-to-use interface, professional-looking editing tools, or maybe a bunch of extraordinarily beautiful filters. Photo editing apps and software have become tremendously popular nowadays. You can find several online photo editors around.
With those being said, we advise you not to be afraid to use the three tools we have talked about above. Your impactful visual content is just within your reach.