Funny gift ideas are abundant and proliferating in the market today. These presents will not only impress your loved ones, and show your love and appreciation for them, but also, they will allow you to share happiness with these important people in your life. From the Wepop bread shape pillow to the iARTidea shark slipper, plus more, here are the best funny gift ideas you can purchase.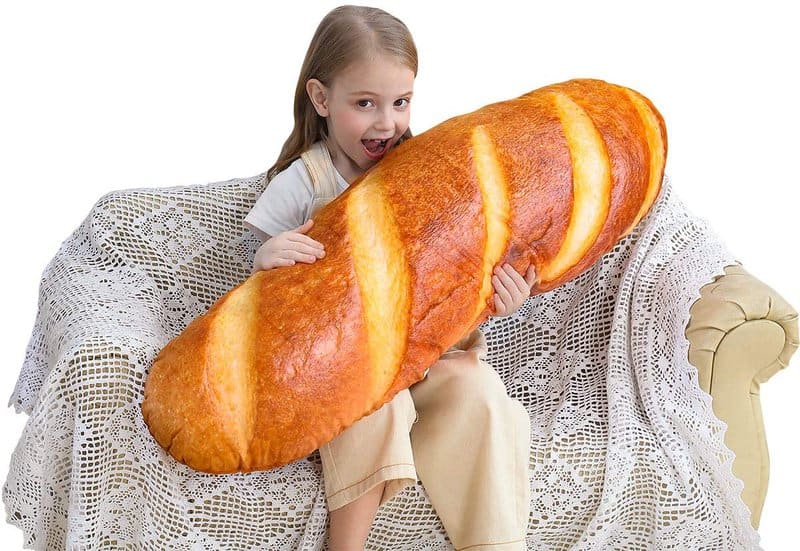 Funny Gift Idea # 1: Wepop 40 In 3D Simulation Bread Shape Pillow
The first on our list of funny gift ideas is this Wepop Bread Shape Pillow. This product comes from Wepop, a professional plush doll brand that is trendy, and aims to develop toy products that people will love and have fun with.
Moreover, this bread-shaped pillow is made with skin-friendly fabric, soft to the touch, and designed for comfortable hugging. It is the best gift for friends, loved ones, and even your pets.
Aside from being a funny gift idea, this three-dimensional bread pillow is also a suitable decoration for your home.
A hug with this pillow and your stress can disappear. This plushy pillow helps both kids and adults calm down, very ideal for snuggling up on the couch, bed, or even while on the go.
It is made with non-toxic, high-quality, and safe material.
Funny Gift Idea # 2: Decodyne Have A Nice Day Funny Coffee Mug
There are mugs, and then there are funny mugs. This Decodyne Have A Nice Day Funny Coffee Mug is designed as usual on the body of the mug, greeting everyone with "Have a nice day," but at the bottom of the mug, it pictures a funny message that shows how the mug owner really feels.
This funny gift item is easy to sip from, with its perfectly-shaped handle and curved rim that lets you keep hold of the mug and sip from it with ease.
Furthermore, it is made to last. The messages are printed on ceramic materials, so they will not rub or flake off like the stickers, and the funny image at the bottom is three-dimensional, giving it a real image feel.
This mug holds up to 14 ounces of coffee, tea, or cocoa. It is an ideal gift for everybody, whether for birthdays, anniversaries, debuts, weddings, or other special occasions.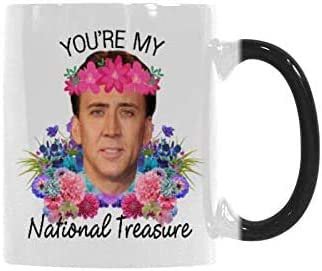 Funny Gift Idea # 3: SCSF You're My National Treasure Morphing Coffee Mugs
Made with a special, heat-sensitive coating, the mug changes color when hot liquid is added, revealing your design against a bright, white background. These morphing colors will surprise and delight anybody who uses this mug.
It can hold up to 11 ounces of coffee and other drinks.
This funny gift is made with 100 percent sturdy durable ceramic-safe, and is healthy for drinking.
Moreover, the mug will come packaged carefully, and shipped to you in a sturdy form-fitting foam.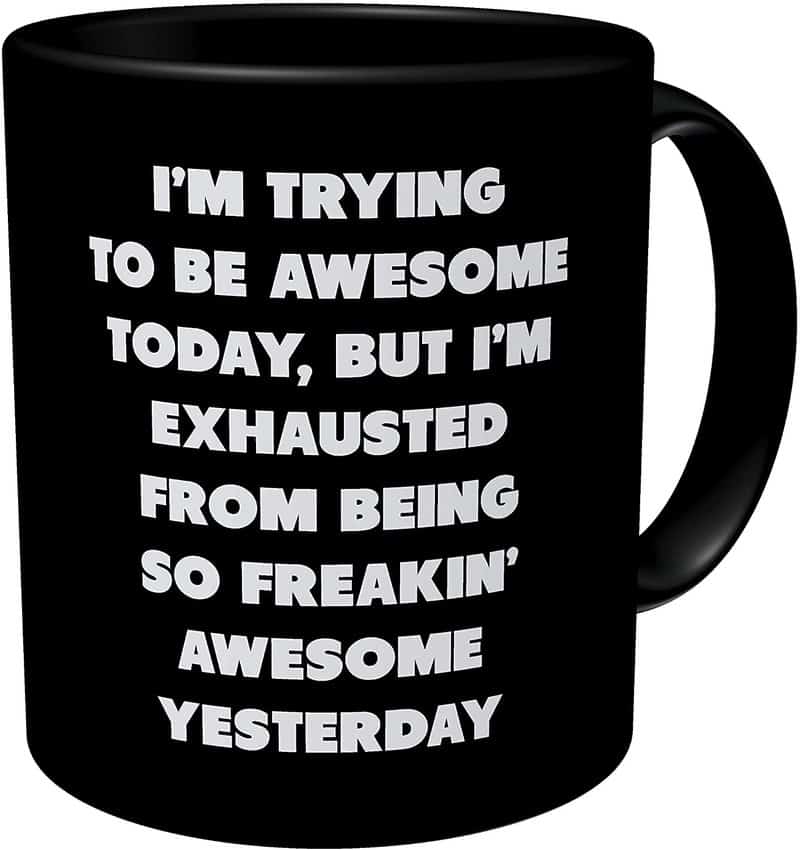 Funny Gift Idea # 4: Aviento Blanco Black I'm Trying To Be Awesome Today But I'm Exhausted From Being So Freakin' Awesome Yesterday
From the store Aviento Blanco, this mug is another of the great mugs that can count as a funny gift idea.
Printed on the design is the statement in all caps, "I am trying to be awesome today, but I'm exhausted from being so freakin' awesome yesterday."
If you think it is not funny, well, it is funny for us.
This is a great gift for your loved ones for any occasion.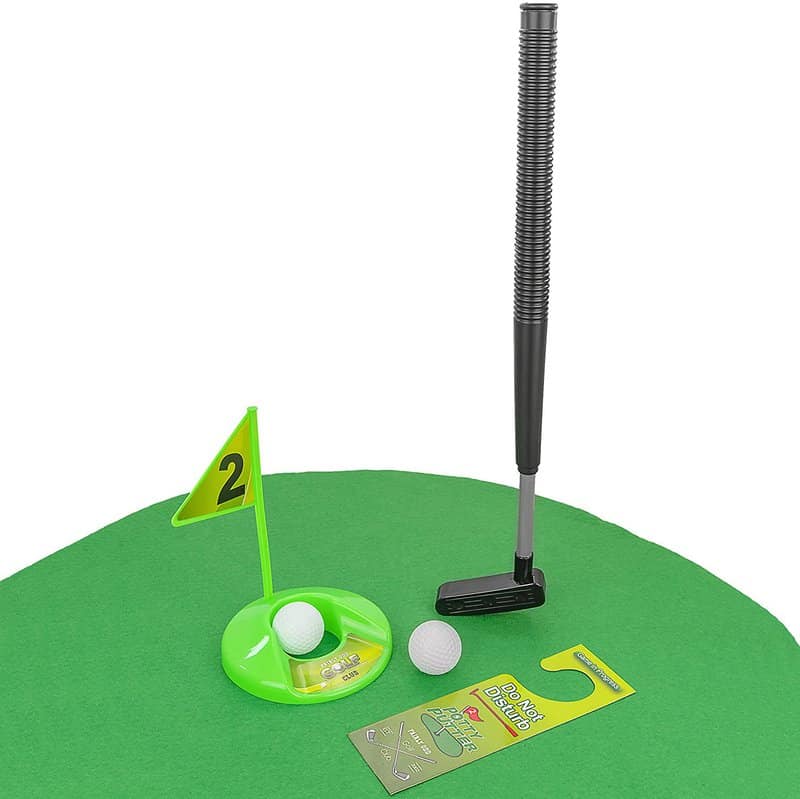 Funny Gift Idea # 5: Fairly Odd Novelties Potty Putter Toilet Time Golf Game
Designed no matter whether you are a golfer or not, this toilet golf game lets you practice the sport while you are using the toilet. Play a golf game while on the toilet seat, so you have more fun during your private time in the bathroom.
Moreover, it makes for a perfect and funny gift idea for people of all ages.
Funny Gift Idea # 6: GSPY Lavender Scented Candles
Looking for the perfect gift for your best friends? These GSPY Lavender Scented Candles will provide for what you need. This funny gift idea has a print design that states, "Our friendship is like this candle. If you forget me, I'll burn your (bad word) house down."
Give this as a gift for birthdays, Christmas, Thanksgiving, and even for just because days.
The content of the candle is poured in a reusable glass jar, and the candle provides up to 50 hours of burning time in typical conditions.
Moreover, this scented candle is made with 100 percent natural soy wax, providing a slower and cleaner burn. This material works better for the environment, burns more, and lasts longer.
It is also infused with premium lavender fragrances, great for promoting sleep and relief from anxiety, depression, and stress.
Furthermore, this product is the perfect addition to your or your friends' bathrooms, bedrooms, kitchens, living rooms, offices, and more.
Funny Gift Idea # 7: DU VINO Old Lives Matter Whiskey Scotch Glass
Just like how a whiskey drink ages, people also age. But this is not a reason why they should not celebrate the good times together. This is the concept behind the DU VINO Old Lives Matter Whiskey Scotch Glass that plays on the theme "Black Lives Matter" with a whiskey scotch glass with a printed design that says "Old Lives Matter."
Moreover, this funny gift idea lets everyone know how far you have come, and reminds them that adventures in life are still to come, great for drinking with friends.
This old-fashioned and classic 11-ounce whiskey glass provides a simple yet sleek design with a polished and modern look, plus a heavy base to ensure superior stability. It is great for serving your finest cocktails and liquors on the rocks, showcasing your beverages in such an eye-catching presentation.
Funny Gift Idea # 8: iARTidea Shark Slipper
iARTidea is a brand that provides products you can use in life, and also offers online services for individuals and businesses. Among the products on their catalog is this Shark Slipper that will surely bring happiness to anybody who owns this pair.
This funny gift idea is a pair of indoor slippers designed to make it appear your feet are being bitten by sharks while you are wearing the slippers.
Great as gifts for any occasion, these shark slippers can relieve the stress and anxiety you encounter in your daily lives.
Plus, you will also get a bonus item with your purchase, which is a shark stress relief toy.
Gifts can be grand and luxurious, gifts can be simple and inexpensive, and there are times gifts can be funny. With these funny gift ideas you have learned above from the list, you can bring happiness and joy to the people you love.