Getting a good foot massage spa provides a wide range of benefits for your health and well-being, from stimulating your muscles to improving your blood circulation. This treatment also lessens stiffness and tension, and eliminates pain.
Usually, when you need a relaxing foot massage, you will think about heading over to a foot massage spa establishment. But treatments like this in commercial spas can get very expensive, depending on the particular treatment you will choose. Plus, you will also need to spend traveling to the spa.
But, you actually do not need to spend bucks just to get a rejuvenating foot massage treatment. We introduce to you the foot massager and its amazing benefits. This equipment lets you get a good foot massage even while at home. What is the best foot massager Amazon customers are investing in? Let's find out.
Top 10 Foot Massagers To Relax Your Weary Feet
Below are 10 of the best foot massagers that will allow you to receive a foot massage spa treatment even while at home.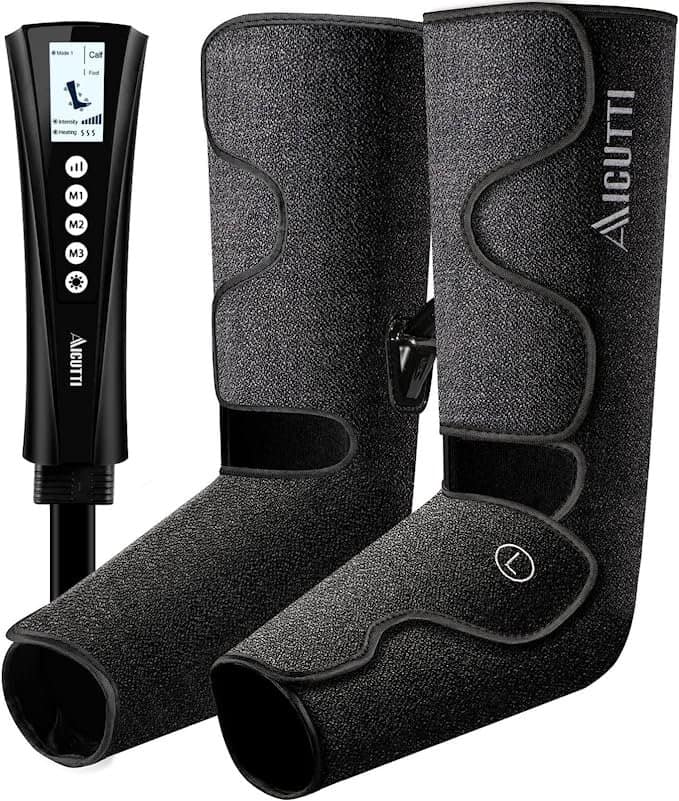 1. AICUTTI Compression Foot And Leg Massager
You may perhaps be very familiar with compression clothing and how they help enhance your movement or workout. This time, we are going to introduce you to a compression foot and leg massager from the AICUTTI brand.
Whether you are a young professional working at the office, an elderly who spends most of their time at home, an athlete whose life is about training and working out, or someone who works in a high pressure environment, you are prone to painful legs, feet and calves, and sore muscles. The answer: this foot massager from AICUTTI.
This foot massager has heat that can efficiently and safely improve blood circulation, relax muscles, and relieve fatigue and pain.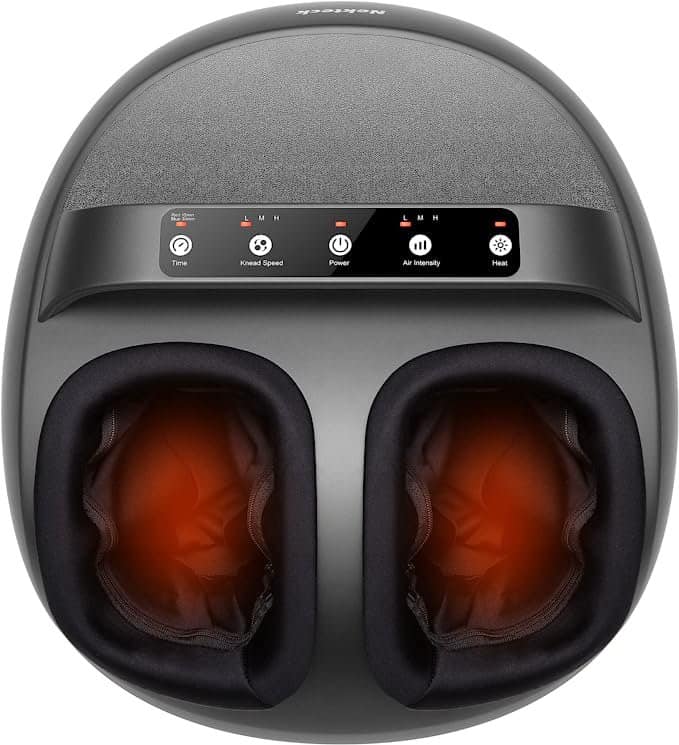 2. Nekteck Foot Massager Machine With Heat
Adding heat to your massage treatment will soothe you and provide you with a lot of health benefits. This foot massager machine with heat from Nekteck is the perfect equipment for deep kneading, rolling, heating, and air competition.
Get the relaxation you prefer for your feet by adjusting the machine according to various intensities. It also features an advanced infrared heating function to help relax your feet and muscles. Plus, it is very portable, so it is easy to carry and bring around.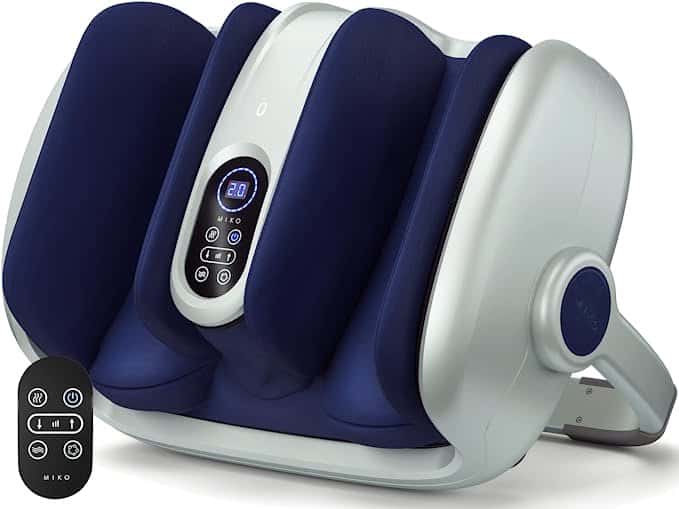 3. Miko Shiatsu Foot Massager Machine
Third on the list of the best foot massagers is this foot massager machine from the Miko store. What does it do?
Well, with this foot massage machine, you can enjoy a deep-tissue foot and leg massage. It also has customizable settings for maximum relief. These settings include the machine's air compression, vibration, heat, wireless remote, rolling massage, sway function, timer, and adjustable intensity.
Providing heat and air compression therapy, this equipment also has a 360-degree rotation bar so you can provide a good massage for your feet in the position you prefer.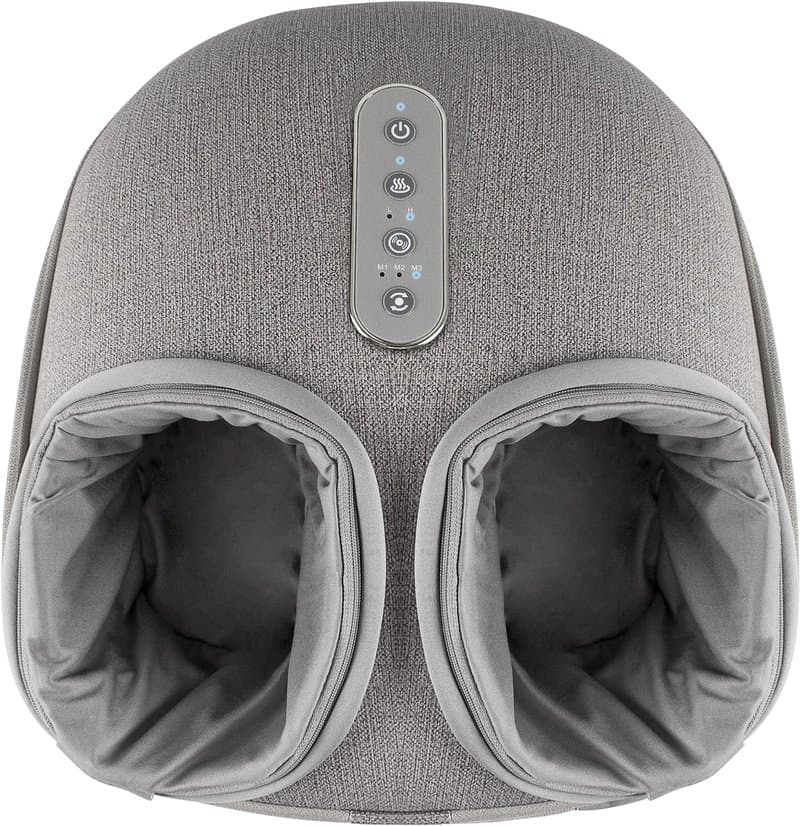 4. Medcursor Foot Massager Machine With Heat
Here is another foot massager machine with heat, this time, from Medcursor. Adding heat to a message treatment increases muscle temperature, thereby helping increase muscular flexibility and range of movement.
This foot massager helps increase circulation in your feet, giving you the relaxation that you need. Plus, it targets to rest of the body as well.
With this machine, you can get the perfect reflexology therapy that helps correct your body's imbalances by massaging specific areas of just your feet. It eases the tension all over your body, such as in your legs and lower back.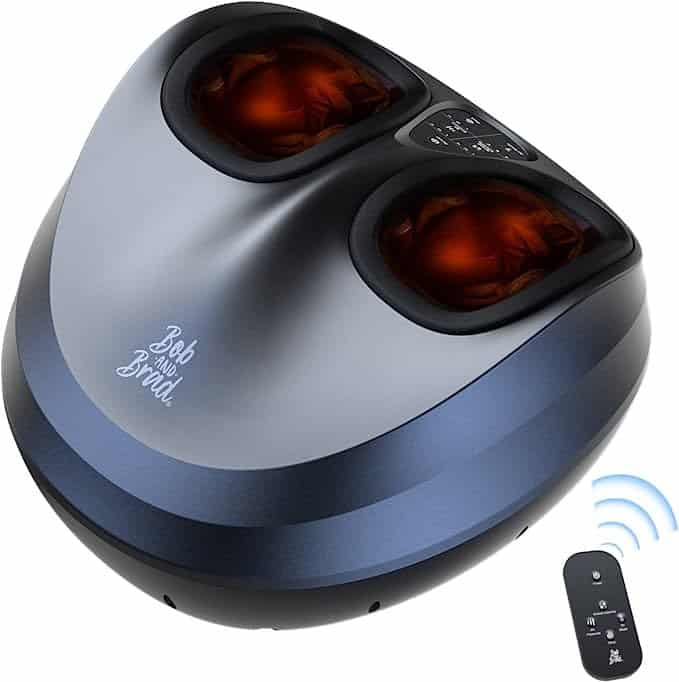 5. BOB AND BRAD Foot Massager Machine With Heat
If you are looking for the best foot massage machine, one of the best choices around is this foot massager machine with heat by BOB AND BRAD.
This machine can be used by anybody because it fits any foot size. The controls are conveniently located on the top of the device with easy-to-read labels so you can customize your experience without any hassles.
Plus, this foot massager automatically shuts off after 15 minutes to ensure the safety of use all the time. It also uses a low-noise air pump, so it does not disturb the people around during the massage.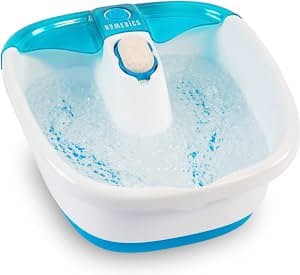 6. Homedics Bubble Mate Foot Spa
Meanwhile, this foot massager by Homedics introduces something different because it uses water and some bubbles to relax your feet.
This equipment includes a callus-removing stone that also pampers your feet and shapes them to perfection.
You do not worry about wetting the areas around you because this foot spa is designed with an integrated splash guard that helps prevent splashing and spilling, providing you a mess-free experience.
7. Medical king Foot Spa With Heat
Another foot massage machine that uses water and heat is this foot spa from Medical king. And it is truly medical.
It comes with adjustable heating and temperature control. The oxygen bubbles will help promote your blood circulation and metabolism. The vibration will make your massage treatment more enjoyable. It also comes with a pedicure stone to help remove calluses and dead skin.
Moreover, it is also very portable, so you can take them anywhere at home or even in the office.
8. Niksa Foot Spa Bath Massager
We continue with our list with this amazing foot spa bath massager by Niksa. This foot massager does a four-fold massage technique, comprising of squeezing, pushing, pressing, and compressing.
With this, you can also get the perfect acupuncture massage, so your feet get into a deeper level of relaxation.
You can set the machine to your preferred temperature. Plus, it also features a bubble function that heats the water evenly, bringing a more comfortable foot spa experience.
This is the perfect partner for promoting your blood circulation and keeping your entire body healthy.
9. Mantello Foot-Soaking Bath Basin
A good foot massager is anchored on a nice soaking bath basin. This foot-soaking bath basin from Mantello does its job well.
This foot basin is engineered with extra high walls and heavy-duty plastic, so it stays put at your feet without wobbling or rocking.
Designed with raised dots and a rounded arch, it can treat sore feet, tendonitis, twisted ankles, and other foot and ankle ailments.
You can use this basin with your Epson salts, essential oils, bath bombs, therapeutic tea tree oil, and so much more.
10. ACEVIVI Foot Spa Bath Massager
Last but certainly not least is this foot spa bath massager brought to you by ACEVIVI. Escape to a wondrous and relaxing foot spa experience with this bath massager.
It features a two-in-one removable pumice stone and material box that provides bubble function, so the massager not only soothes the feet but also removes dead skin on the soles of your feet.
It has massage rollers than conform to the structure of your soles and features hydroelectricity separation with overload protection to ensure you are comfortable throughout the treatment.
Most Searched Quora Questions About The Topic
Aside from our discussion and rundown of the best foot massage machines, we are also going to present to you the most searched Quora questions with answers about our topic. Keep on reading.
1. What Are The Benefits Of Chinese Foot Massage?
A Chinese foot massage is also known as foot reflexology. It involves applying pressure to specific points of the feet that link to particular body parts.
When the reflexologist stimulates these pressure points, the theory is that vital energy, known as Qi in Chinese, flows through the person's body, reaching the corresponding area.
The many benefits of getting a Chinese foot massage include lowering anxiety, reducing fatigue, and lowering blood pressure. But you can get many other benefits if you try having a Chinese foot massage treatment.
2. What Is The Best Foot Massager For Diabetics?
For diabetics, many product lists and reviews only say the best foot massager for them is the Shiatsu Foot & Calf Massager for Neuropathy.
This is the top pick for those suffering from neuropathy and diabetic foot pain. It combines heat and air compression to enhance blood flow and offer relief to tension through its rolling and sway function features.
This foot massager has five various settings and three intensity levels, so you can customize the massage according to your needs.
It is also fully adjustable to your size and offers multiple massage positions, thanks to the machine's 360-degree rotating bar.
3. Is Slabway Foot Massager Legitimate Or Not?
With several foot massage machines available around, it can be difficult to distinguish which are legitimate and which are not. Let us take a look at the Slabway foot massager.
This foot massager is quite popular in the market today, especially that it has aggressively promoted how effective and helpful this device is for those who suffer from plantar fasciitis. However, there is no clinical study yet that supports these claims that this product can relieve pain and inflammation caused by plantar fasciitis. However, if you want to simple foot massage, the Slabway foot massager can work. Some user reviews also said that it is effective for plantar fasciitis as it can effectively massage the feet, so perhaps you can use this also for this.
However, since there are no clinical studies that support these claims, it is very difficult to say whether or not this provide relieves those suffering from plantar fasciitis. So you may need to look around for other foot massagers.
What Is The Best Foot Massager For Your Wellness?
You have learned about the best foot massagers on the market today. However, there are actually factors to consider before you head over to buy that foot massager you are aiming to own. These details will help you find the right foot massager according to your very needs.
Your buying decisions for a foot massager must depend on these considerations:
With these and the list you have read about earlier, you will be able to find the perfect foot massager to rejuvenate your well-being.