[yasr_multiset setid=1]Are you looking at launching a dropshipping business but do not want to spend so much? eBay dropshipping is the perfect choice for you.
Dropshipping on eBay takes away the need to create a custom storefront since you can utilize your eBay store to begin selling products over the Internet. You also gain access to a pre-determined audience, letting you save your money you would otherwise spend on marketing or other important things.
Have those statements fascinated you? Here, we present everything you need to know about eBay dropshipping, from looking for the right suppliers to keeping healthy profit margins. Aside from things like finding the right supplier, since eBay has recently also updated its policies, you will also get to know about AutoDS, one of the software that offer dropshipping services for your eBay seller account and find out why this tool is the right choice for you. Without further ado, here's the ultimate 2022 guide to dropshipping on eBay, plus more.
What Is eBay Dropshipping And How Is This Different From Traditional Dropshipping?
You may be familiar with dropshipping from Amazon, but how about on eBay? You know eBay is strict in certain aspects, so is dropshipping technically allowed on eBay? Yes, eBay allows dropshipping. Since dropshipping is technically allowed on eBay, what are the things to know about dropshipping on this popular marketplace? Read on.
eBay dropshipping is a very profitable and affordable business model wherein a merchant purchases items from wholesalers, marks up their prices, and resells them on this online marketplace.
Many business owners prefer this way because there is actually no need to physically touch any product or rent a warehouse just to store inventory. Any product orders you get go straight to your dropshipping provider, and it is their job to sort, pack, and ship the items to your customers.
Pros And Cons Of Dropshipping On eBay
Before we move forward, let us enumerate the advantages and disadvantages of dropshipping on eBay, so you know whether you are making the right choice or not.
Pros Of eBay Dropshipping
Cons Of eBay Dropshipping
Benefits Of eBay Dropshipping
When you choose to take the road of dropshipping via eBay, you can get several benefits (some of which are enumerated earlier in the pros section).
eBay dropshippers only buy goods as customers purchase them. There are no minimum order qualities. Meaning to say, if a customer only buys one pair or earrings from your eBay store, you only need to pay for that one specific pair. This makes eBay dropshipping a great business model for entrepreneurs looking to experiment or experienced business owners looking to try a new niche.
Utilizing dropshipping suppliers, you will be able to automate much of your dropshipping efforts. It only takes a few minutes to list the item you want to sell on your eBay store. As a sale rolls in, it just takes a single click to process the order. Thus, giving you more time for things that truly matter, such as customer service and marketing.
Because you are selling a manufacturer's item instead of designing your own, you will pay wholesale pricing. Depending on where you are dropshippping from, you may even benefit from having low shipping rates (sometimes even free) that keep costs at a minimum for yourself and your consumers.
You just need to focus on a couple of administrative duties, marketing, and customer service. The manufacturer does the job of the most time-consuming responsibilities, such as packaging and shipping, and expensive tasks such as carrying inventory.
5. There Are Millions Of Products To Sell
You can choose from millions of products from a wide array of dropshipping niches. Simply look through other marketplaces and add any product you desire to your store in just one click. This way, you can sell proven products instead of having to create your own.
How You Can Dropship On eBay
Think you are ready to become the ultimate eBay dropshipper? Not yet. First, here's a step-by-step guide on how you can launch a successful eBay dropshipping store.
Step 1: Create An eBay Seller Account
A seller account is what you'll need to sell products via your eBay store. Here are the sub-steps on how you can create one:
Once you are done with these steps, you can use the eBay app to connect the new store to your storefront. Doing this will let you view inventory levels, communicate with buyers, and manage returns -- all in just one dashboard.
Step 2: Look For Profitable Items
After completing the first step, you will need to find out which products sell best on eBay. One of your sources could be eBay's bestseller page.
Some of the most popular product categories are clothing, shoes and accessories, consumer electronics, home and garden, pet suppliers, and toys and hobbies, among many others.
Lightweight products are generally the easiest to dropship, so consider finding these kinds of items in the listed categories. Furthermore, you'll also want to take a look at the return rate of each item. Products with a low return rate are less likely to bring problems to your customers.
Step 3: Choose Your Dropshipping Suppliers
Once you have found a profitable product to sell on eBay, the next step is to look for dropshipping suppliers that can offer you a fantastic deal on bulk purchases.
As you look around, check the supplier's seller rating, shipping time, shipping fees, and customer reviews. Also pay attention to the delivery time, since eBay requires brands to deliver products within a month from the placing of the order.
Step 4: Create Your eBay Listing
Next, you will need to create a listing for all the products you are dropshipping on eBay. Remember to include keywords your target customers may search for in relation to your products.
And, don't forget to pay close attention to these things (they all influence how likely eBay's algorithm will show your products to potential customers): product title and description, product images, customer reviews, and return policy. For the return policy, be sure to check whether your dropshipping supplier also handles product returns.
Step 5: Price Your Product
eBay dropshipping can become ever so lucrative when you leave sufficient room between a product's purchase and resale price. So, it is vital that you are able to determine the price of your dropshipping products by considering product costs, business expenses, and how much profit you would want to make.
Moreover, you also need to monitor and collect data on what similar products are selling for throughout the marketplace. Tweak your product pricing accordingly until you find a middle ground between competitive pricing and the shoppers' willingness to purchase.
Tips On How You Can Be Successful With eBay Dropshipping
eBay dropshipping isn't too complicated, but there are things you need to do to bring success for your business.
1. Create A Multi-Purchase Offer
Basically, these kinds of offers are eBay's take on bundled offers, wherein you sell one product for $5, two of them at $8, and so on. This tactic is a great way to increase your profits since you will never need to pay import or shipping fees several times.
2. Unify Your Product Inventory
You can use dropshipping tools that are capable of merging your inventory data from all sales channels, including eBay, so you can take a good look at customer and sales information all in one place.
3. Make Customer Support A Priority
Even though the items you sell come from dropshipping suppliers, keep in mind that it is still your job to make sure your customers are satisfied. Be sure you are able to respond to support requests in a timely fashion, and take full responsibility when issues arise with shipping or product quality.
Start Dropshipping On eBay With AutoDS
The eBay customer can get as demanding as they would be, and you cannot control this. The only thing you can do is to make sure you are on top of your business, making eBay dropshipping in 2022 even more challenging.
Aside from having to source products, there are several things to think about when running a successful dropshipping business on eBay or your eBay business. Aside from finding a reliable supplier for your products on eBay, you also need to think about the fees on eBay such as the listing fee and final value fee, your wholesale supplier, the eBay dropshipping policies, your product listing, the retailer or marketplace that ships your product directly to the customer, what the things are that could result in account suspension, and so much more.
Additionally, other than things like eBay's dropshipping policies, you also need to be familiar with concepts like low barrier to entry, know whether your business orders directly from a wholesale supplier or not, identify which products are allowed on eBay, and so much more about your eBay account.
But actually, you do not really need to stress yourself out about things like eBay dropshipping suppliers and what items to dropship on eBay. To make your eBay dropshipping profitable, eBay allows and eBay takes partnerships with the best eBay dropshipping platforms, and among these is AutoDS. eBay is one of the biggest marketplaces to sell your products, so it is just right for your dropshipping business model to be guided with the right tools, as you go about starting an eBay dropshipping business. Here are the things you should know why this platform for dropshipping is a must-have.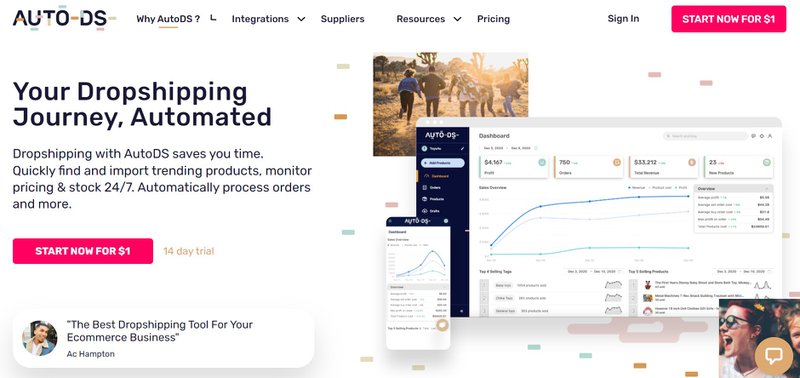 Dropshipping On eBay With AutoDS: What This Software Is All About
AutoDS is a dropshipping control software and platform that keeps tab on supplier's orders, manages messages, and cancels and returns orders to your stores.
This tool features a default template available for one-click response, so you can better monitor performance with your dashboard.
Moreover, AutoDS also oversees prices and service changes by the hour. Whenever a change is noticed, an update on the product is sent to the customer. These automated functions can save hours of work, and avoid cancellations and losses because of changes in price and inventory. When the order is received, it will automatically be ordered within a few minutes.
Thus, this software increases your positive feedback by more than 60 percent through the sending of automated messages to users, and providing positive feedback with automated messages to ensure customers are always satisfied.
Plus, with AutoDS' statistics and performance analyses, users get a complete view of their company with its advanced dashboard, filters, and systems, including everything you need such as high-quality customer service.
Features Of This Platform For Dropshipping
Here are some of the most outstanding features of AutoDS: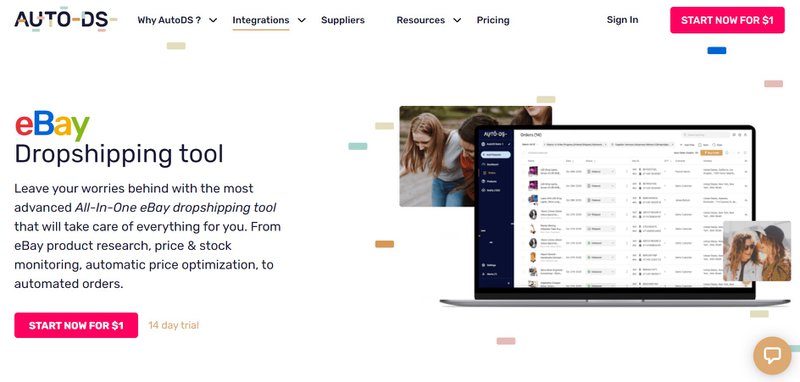 eBay Dropshipping FAQ From Quora
Starting a dropshipping business with eBay is never easy, so to help you further on this journey, let us take a look at some of the most popular questions about eBay dropshipping.
How Do I Increase My eBay Dropshipping Sales?
To increase your eBay dropshipping sales, be sure to follow these steps. First, always make your store active. Second, catch the customers' attention by using the right keywords. Third, make good use of eBay promoted listings. Fourth, eliminate negative feedback. Fifth, do fast and free deliveries from time to time. Sixth, also promote your listings on social media platforms. Seventh, attach the correct prices. Eighth, incorporate email marketing. Lastly, use a flexible return policy.
What Are The Pros And Cons Of Dropshipping Through eBay Instead Of An Established Website Like Shopify Or Magento/WordPress?
eBay dropshipping is one of the best choices to make for your dropshipping business. But to ensure this choice is perfect for you, it is crucial that you learn its pros and cons.
The pros of eBay dropshipping are: there is minimal investment required to start dropshipping here, it is low risk, it is simple, and you can gain access to millions of customers worldwide.
But it also has its cons, which are: very high competition, the fact that your customers are still eBay's customers, and up to 10 percent of the sale goes to eBay.
Start your eBay dropshipping business: Dropshipping on eBay Made Easy With AutoDS
With more and more people using eBay to discover and purchase products they like, launching a dropshipping store on this platform seems like a no-brainer. Therefore, we have prepared this guide to source profitable products, create a seller account, and earn profits. By implementing these, you can create a lucrative stream of income via eBay dropshipping.
The year 2022 is about to end. Why don't you end it with a bang using software like AutoDS? So now, you already know the things you need to get started with dropshipping on eBay. We have outlined our complete guide on how you can make money dropshipping on eBay, the pointers you need to remember about starting a dropshipping store on the platform, the eBay dropshipping fees, how to sell an item on eBay, and more things about managing your dropshipping store on eBay. eBay dropshipping could change the way how you do business. Dropshipping on eBay could catapult you to the success you have always wanted. We hope this guide has helped you a lot.