Why Golden Retriever Coloring Pages?
Coloring has been proven to offer numerous mental and emotional benefits for people of all ages. It can help reduce stress and anxiety, promote mindfulness, and enhance creativity. So, why not combine this therapeutic activity with the heartwarming presence of Golden Retrievers?
Golden Retriever popularity
Golden Retrievers are among the most popular dog breeds worldwide, known for their friendly nature, intelligence, and loyalty. These lovable dogs have a unique ability to bring joy and happiness to everyone around them. By choosing Golden Retriever coloring pages, you can experience the positive vibes of these wonderful dogs while indulging in a relaxing and creative pastime.
Types of Golden Retriever Coloring Pages - Dog Coloring Pages
Nothing can be more adorable than a Golden Retriever puppy! Puppy coloring pages capture the irresistible charm and playfulness of these young pups, often featuring them in cute poses or playful situations. Unleash your creativity and bring these cuddly puppies to life with your favorite colors.
Adult Golden Retrievers exude elegance and grace, making them perfect subjects for coloring pages. These pages often showcase the beautiful features and expressions of these friendly dogs, allowing you to immerse yourself in their majestic presence while creating your masterpiece.
Golden Retriever action scenes
Golden Retrievers are known for their athleticism and enthusiasm for various activities. Action scene coloring pages depict these energetic dogs playing fetch, swimming, or running through fields. These dynamic images will engage your imagination and keep you entertained for hours.
Celebrate the changing seasons and special occasions with Golden Retriever-themed coloring pages. These pages might feature dogs frolicking in autumn leaves, enjoying a snowy winter day, or celebrating a festive holiday. Each page offers a unique opportunity to experiment with colors and techniques that reflect the season or occasion.
How to Get Started - Dog Coloring Pages
Choosing the right coloring supplies
To get started, you'll need some coloring supplies. Colored pencils, markers, or crayons are all excellent choices, depending on your preferences and budget. Experiment with different types of coloring tools to discover which one suits you best.
Next, you'll want to choose from the plethora of Golden Retriever coloring pages available online. Consider what themes or styles appeal to you most, and select a variety of pages to keep your coloring experience fresh and exciting. Many websites offer free printable coloring pages, while others might provide coloring books for purchase.
Creating a comfortable coloring environment
Set up a comfortable space for coloring, with ample lighting and a supportive chair. This will help you focus on your artwork and fully immerse yourself in the relaxing world of coloring. Consider adding some calming background music or nature sounds to enhance the atmosphere.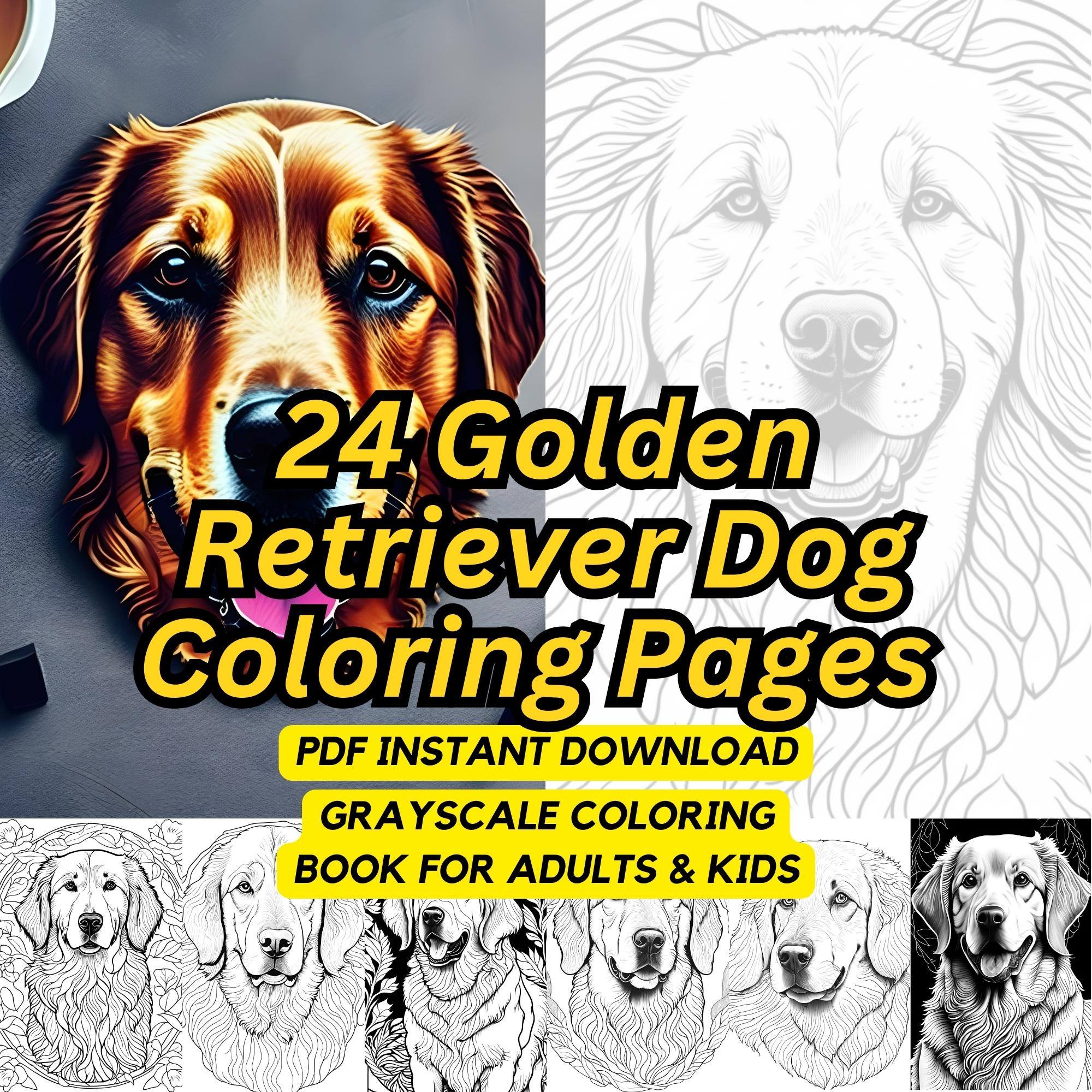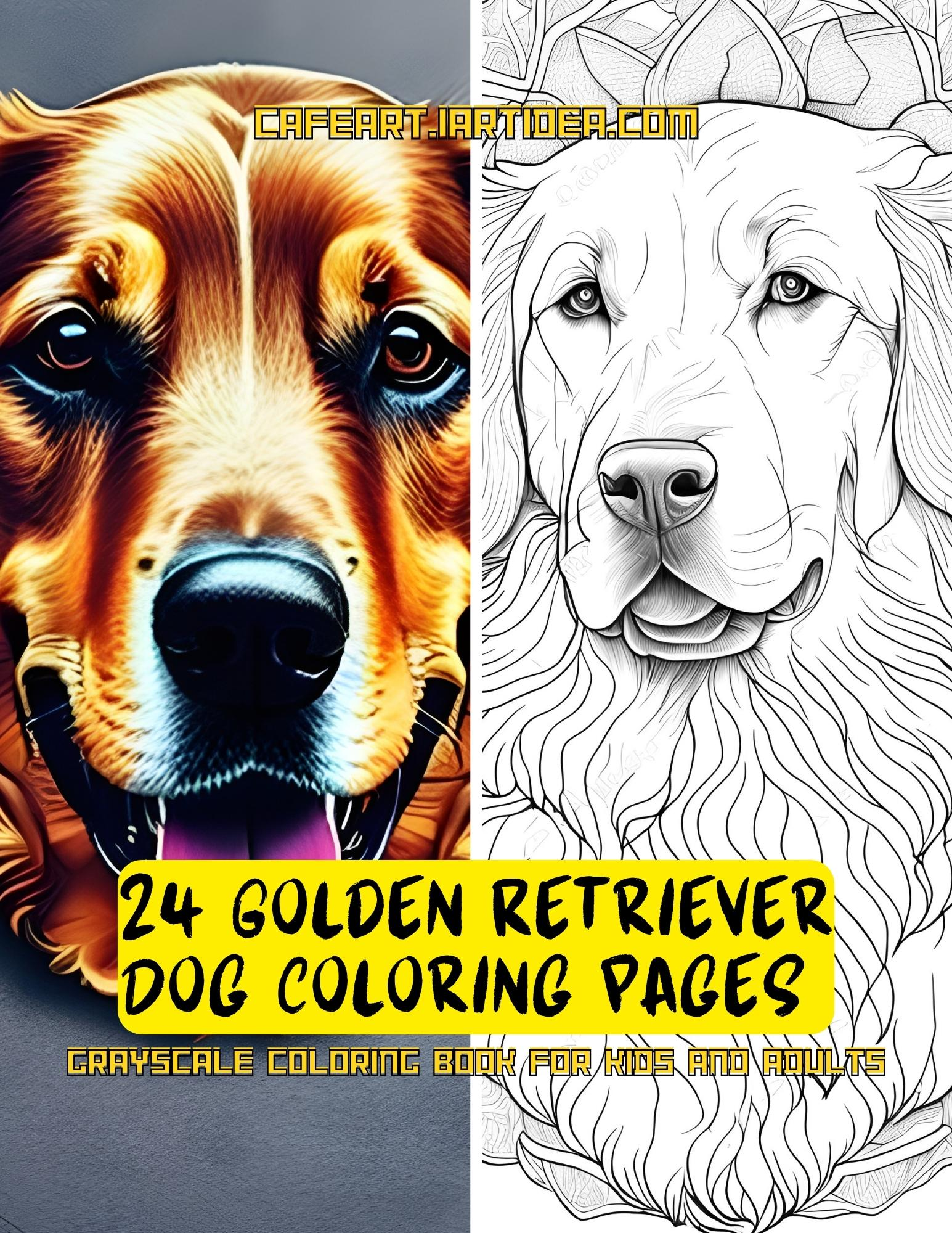 Get Ready to Go Golden: 24 Retriever Coloring Pages for Creative Fun!
Introducing 24 Retriever Coloring Pages - because sometimes, only a pup-filled afternoon will do! Have hours of fun bringing beloved retrievers to life with this fun and cheerful collection of coloring pages. With 24 pages featuring playful retrievers, colors, and poses, you can create unique works of art for your home, friends, or just yourself! Enjoy the challenge of coloring every dog individually, or mix and match fur colors to make your breed. For kids and adults, 24 Retriever Coloring Pages are the perfect way to relax and show your creative side!
Sharing Your Artwork - Dog Coloring Pages
Social media and online communities
Once you've completed your Golden Retriever coloring pages, don't hesitate to share your creations with others. Social media platforms like Instagram and Facebook are great places to showcase your artwork, and you may even find like-minded individuals or groups dedicated to Golden Retriever art. Engaging with others who share your interests can provide encouragement, inspiration, and a sense of community.
Golden Retriever art exhibitions
For those who want to take their passion for Golden Retriever art to another level, consider participating in art exhibitions or dog-themed events. This can be an exciting opportunity to showcase your talent, meet fellow Golden Retriever enthusiasts, and maybe even win some recognition for your artwork.
Discover the Joy of Coloring Golden Retrievers!
Coloring Golden Retriever pages is a unique and enjoyable way to combine the therapeutic benefits of coloring with the irresistible charm of these beloved dogs. With a wide variety of themes and styles available, you'll never run out of inspiration. Get started today and experience the joy of coloring your way to puppy bliss!
FAQs - Dog Coloring Pages
Are Golden Retriever coloring pages suitable for all ages?
Yes, Golden Retriever coloring pages are perfect for people of all ages, from children to adults. Coloring is a relaxing and enjoyable activity that transcends age barriers.
Where can I find Golden Retriever coloring pages?
There are numerous websites that offer free printable Golden Retriever coloring pages. You can also find coloring books for purchase online or in local bookstores.
Can I create my own Golden Retriever coloring pages?
Absolutely! If you have artistic skills, you can draw your own Golden Retriever coloring pages and personalize them to your preferences.
Do I need any special tools or materials for coloring?
You can use any coloring supplies you prefer, such as colored pencils, markers, or crayons. The choice depends on your personal preferences and budget.
Is it necessary to have prior experience with coloring or art to enjoy Golden Retriever coloring pages?
Not at all! Coloring is an activity that can be enjoyed by everyone, regardless of their artistic background. It's a great way to relax, have fun, and develop creativity.