Building a good website may seem easy on the surface, but it actually is not. There are several steps involved and a lot of things to consider. However, with the right tools, you really do not need to follow the difficult steps, as you can create a wonderful website within a few minutes. Introducing Canva Websites.
If you want to go the traditional way of building your very own website, you will realize there are many steps involved in the process. These include identifying which content will be included with the website to be built, and working with experts, website designers and builders who probably know certain things that you do not.
Did you know that today, you really do not need to go through the rigorous steps to build a full-fledged website that works according to how you need it? Say goodbye to the technicalities of coding and all the expenses of launching a website with this website builder Canva users are beginning to love. Let us hear more about Canva Websites in this review and discussion.
What Is Canva Websites?: All About The Hype
You know Canva as the graphic design platform you can use for free to create social media graphics, posters, presentations, documents, and so much more, with templates ready to be used. Like any other business, Canva is devising ways to bring new innovations to every user experience. Recently, just a few weeks ago, Canva launched and rolled out Canva Websites, a one-page website builder that you can use for free for your Canva website design. What is Canva Websites all about? Here is the overview.
Canva Websites is a tool that lets you easily create and publish websites to get search-friendly domains, adjustable page heights, password protection, and full responsiveness across devices.
"Canva was born on the Internet, and as everything moves online, we believe the vast majority of designs and documents will be shared as dynamic and interactive visuals, instead of static documents. With Canva Websites, anyone can share their ideas as a customized website in a matter of minutes. No coding required," Canva said in its press release.
Canva Websites is just as easy to use as the main Canva, with its drag-and-drop features.
A Look At The Canva Websites Features
Canva Websites allows you to create various websites for various needs. They include:
… and so much more. It really depends on your specific requirements and imagination.
Users of Canva Websites are starting to love its many features, from letting you create a Canva website within minutes to inviting your team to collaborate.
1. Create Your Canva Website In Minutes
With Canva Websites, there is no need to work on a website for several weeks because you need to coordinate with a website designer and everything in between. Canva Websites is a free drag-and-drop website builder that allows you to effortlessly create a website with drag-and-drop tools, no coding ever will be required.
Plus, there are hundreds of beautiful templates – like that of the main Canva platform – so you do not need to worry about getting the same website design as that of another person.
Enjoy unlimited content with this tool.
2. Launch Your Canva Website With A Click
You are the boss when creating your website with Canva Websites. You can launch your website immediately after designing it – according to your own rules.
Each website created via Canva Websites is personalized with a custom URL, wherein you get a free SEO-friendly domain. Or, you can purchase one from Canva or connect your own domain with its Pro features. But fret not, the free features are just as good as you need them to be.
This platform also requires no more manual optimization, as opposed to when you work with a website designer the traditional way. Websites created using this platform are responsive across desktop, mobile, and tablet devices.
Not only those, but you can also control access to your website without worrying about unauthorized infiltrations. Canva Websites lets you protect internal communications by enabling password protection.
3. Collaborate Seamlessly
No other website builder like Canva Websites lets you collaborate seamlessly with your teammates. First, it offers real-time collaboration so you can work effortlessly with your team and acquire their input also in real-time.
Second, with this tool, you can get feedback to perfect everything before launch. Revise your website with team. Third, this tool also allows you to give access to your brand templates, colors, fonts, and logs to your team members, making sure they are all on the same page.
4. Work Anytime, And Anywhere
Canva, for one, has a mobile app, so you can use its design features even while away from your desk. The company adopts this feature with Canva Websites. It is available on various platforms, such as desktop and mobile.
What is even more impressive with Canva Website is that has Insights, a feature that lets you know what you are currently working on, taking out the guesswork in your creative decisions. Canva's Canva Pro or Canva for Education (for teachers) lets you track traffic and engagement right from the platform. There is no need to integrate with third-party analytics.
Canva Websites is for entrepreneurs who want to boost the online presence of their businesses, for content creators who want to better showcase their portfolios, and for side hustlers who want to keep everything presentable.
Here are more features you will love about Canva Websites: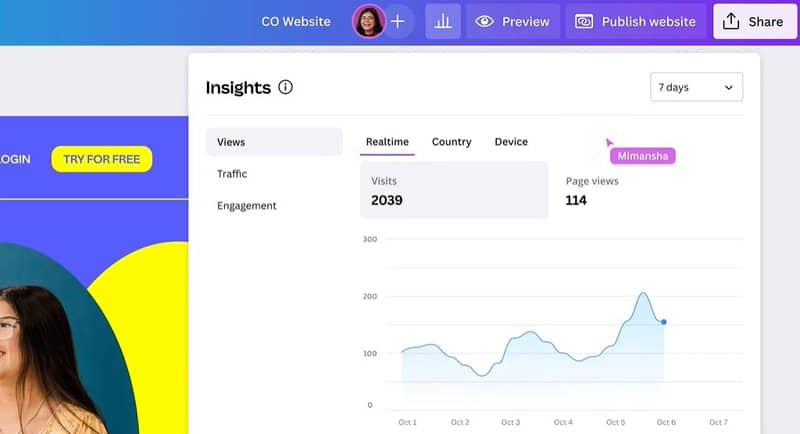 How You Can Get Started With Your Canva Website Design: The Step-By-Step Guide
How can you get started with Canva Websites? Here is your step-by-step guide. The steps are actually very simply and easy to follow.
First, look for "Website" in Canva. Then, you can choose from one of Canva's professionally designed templates, or you can build from scratch.
Afterward, you can customize your website with your own graphics or grab free elements from Canva's library.
You can also collaborate with your team by sharing access to your draft on the dashboard.
Then, you can preview how your Canva website looks on mobile, desktop, or tablet devices. Impressive, right?
Finally, you may also choose a free Canva Sites domain or buy your own domain. Then, optimize for search engines and click Publish as Website. Your website will now go live.
Most Searched Quora Questions Answered
Up next, we are going to answer the most searched questions on Quora about Canva Websites and more.
1. Can I Use Canva Images For My Website?
Yes, you can. All free photos, music, and video files on Canva can be used for free for commercial and non-commercial use.
There are five ways to use Canva to make website graphics.
The first is making banners. You can create a creative banner for your website using Canva.
The second is putting your images into circles, blobs, or other creative shapes. Canva has frames that allow you to place your images and have them displayed in creative ways. The platform also offers a variety of common shapes and even a whole set of letters.
The third is using Canva to mock up your work. Show your work in a creative way that other users understand.
The fourth is making custom blog covers. You can create beautiful blog thumbnails with Canva.
The fifth and last one is using Canva as a resource library or file storage for building brand materials. Canva is a massive resource for fonts, images, and elements.
2. Can I Build A Landing Page Using Canva?
Landing pages are standalone web pages, created specifically for a marketing or advertising campaign. Can you build a landing page using Canva? Yes!
First, you open Canva. Launch Canva and start searching for "Website" to begin your webpage design.
Then, select a template. Browse through Canva's collection of customizable layouts.
Now, it is time to personalize your site. You can implement quick changes to your design, so it is always ready for publishing.
Finally, you can now publish your landing page on the web. That simple.
3. Do Professional Graphic Designers Use Canva?
You may think that professional graphic designers do not use Canva, because they should be knowledgeable of the technical things and that Canva seems only for those who need a tool for graphic design since they do not have sufficient technical know-how. But it is actually the other way around.
There are professional graphic designers who use Canva. If you are a professional graphic designer and feel you need more from Canva, you can sign up for Canva Pro, a subscription tier launched in 2015 that provides opportunities for graphic designers and agencies.
Also, in fact, today, you can find freelance graphic designers on Fiverr offering their Canva services. And, Udemy teaches you can use Canva to become a graphic designer in one hour or less.
4. How Do I Remove A Background In Canva?
Here are the steps on how you can remove a background in Canva. First, click on the image you want to edit. Second, on the toolbar above the editor, click Edit Image.
From the side panel, click BG Remover. Wait for the background to be processed. Finally, to apply the changes, click Apply on the bottom of the side panel. There you have it, you just got the background removed with the use of Canva.
5. How Do I Print Business Cards From Canva?
Business cards are necessities when running a business. Did you know you can print business cards using Canva? Here is how.
First, start with a business card template from Canva's library. Then, customize, collaborate with your team, and finalize your design.
Then, select your preferred printing options. Choose your paper size, type, finish, and quantity.
This time, you can already approve your final design and place your order. Lastly, get your business cards delivered right to your door for free.
6. Am I Allowed To Make A Logo Designing Business Using Canva?
Several people have profited in their business using Canva, so if you are wondering if you are allowed to make a logo designing business using Canva, you sure can. However, there are times when the designs will not be as unique as you want, since all other users can access the Canva designs.
7. How Much Does It Cost To Buy A Canva License?
The Canva license is known as Canva Pro. Canva Pro offers the following features: premium content, premium video, background remover, instant animation, schedule social, templates, transparent images, resize designs, and helping you stay on brand.
In other words, Canva Pro offers features that you do not have access to with your free Canva account.
You can sign up for Canva Pro for only $12.99 a month, or $119.99 a year, as of press time.
8. What Is Canva And Is It Free?
Canva is a free-to-use online graphic design tool that also offers other features like printing your business cards, designing your websites, and so much more. You can use this tool to create social media posts, posters, presentations, logos, videos, and more.
"For anyone wanting to design anything, on your own or with others. No design experience required, and it's free forever," Canva said on its official website.
Canva Websites, A Website Builder Canva Users Will Love
Canva's newly-launched feature is very interesting. Its ability to collaborate with others, the text options, and the image editing tools, among many others, are downright impressive. Moreover, the fact that the platform is free to use is very generous, for instance, if you want to use it for educational or charitable purposes. Plus, you can design good-looking pages with it. Canva Websites is indeed a must-try. Design website with Canva starting today.