Body butter is both a cream and formulation that will give you softer and more hydrated skin. It is a thick cream that deeply moisturizes the skin. This body butter can help you protect your skin from dryness, and it also prevents the skin from getting rough or patchy. These products typically contain a blend of naturally-derived butters like cocoa butter, shea butter, or mango butter. In this article, we will take a look at eight of the best body butter products in the market today. Read on.
Gorgeous-Looking Skin Now
When searching for any product, not just skincare products, you often look at the ingredients and formula to see if they are according to your goals and desired results.
Are you looking for a deeply-quenching moisturizer? Make sure what you are looking for is filled with butters, humectants, and oils so the product can target all layers of your skin with hydration. If you are looking for skin brightening and free radical protection, find products fueled with antioxidants.
Texture is also crucial. Applying beauty products should always feel appealing and enjoyable. However, no two individuals are alike.
Some people love a silky and smooth lotion, while others crave a splashy and fast-absorbing moisturizer. Then, there are those who want a thick and dense cream.
If you are more likely belonging to the last group, you have come to the right piece. Here, we are rounding up the best body butter products and more that will coat your body in a layer of luxurious and sophisticated hydration – not to mention, and we're whispering it right to your ears, they have plenty of skincare perks as well.
Top 8 Body Butter Products For A More Beautiful Skin
Without further ado, here are eight of the best body butter products in the market today.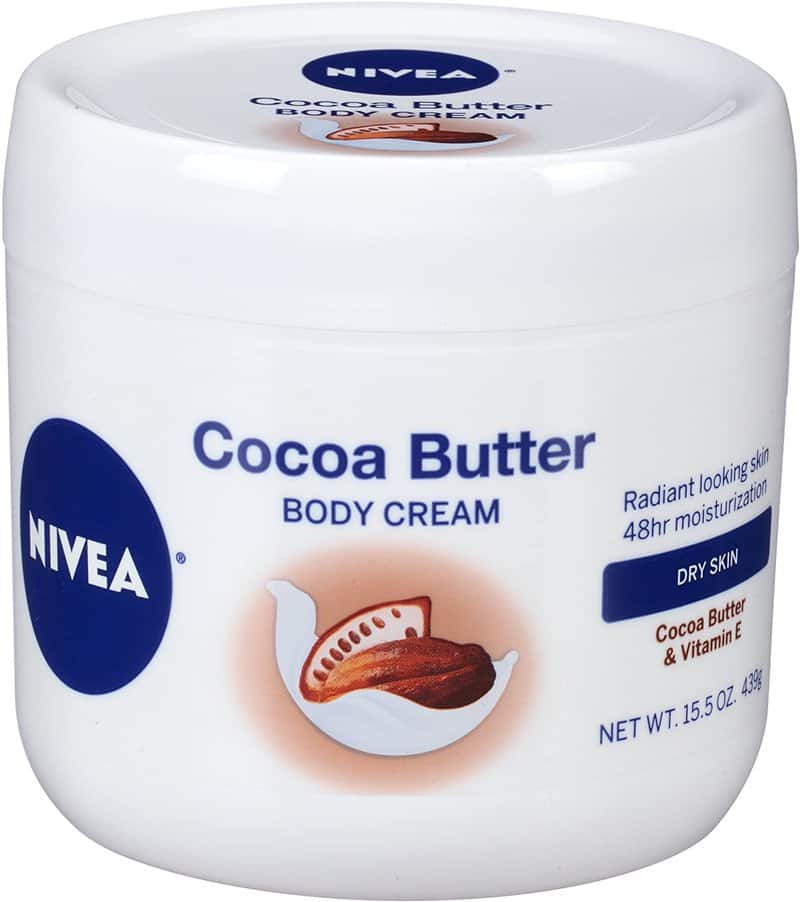 1. NIVEA Cocoa Butter Body Cream With Deep Nourishing Serum
NIVEA is one of the most renowned skincare brands in the market today. If you are in a grocery store and do not have a list of the specific product you need, but you need a product for your skin, you will most likely pick NIVEA among other products. This is how popular it is.
Aside from body butter products, NIVEA also offers body lotions, shaving gels, face wash products, body creams, lip care products, and a whole lot more.
One of its most in-demand products in the market today is their Cocoa Butter Body Cream With Deep Nourishing Serum.
This product is infused with ingredients that include their deep nourishing serum, cocoa butter, and Vitamin E. With these ingredients working synergistically, this body butter cream nourishes your dry skin for visible radiance.
This formulation is also perfect as hand cream or moisturizing foot cream.
Great for dry skin, this NIVEA product leaves your skin intensively hydrated, and radiant even after just one application.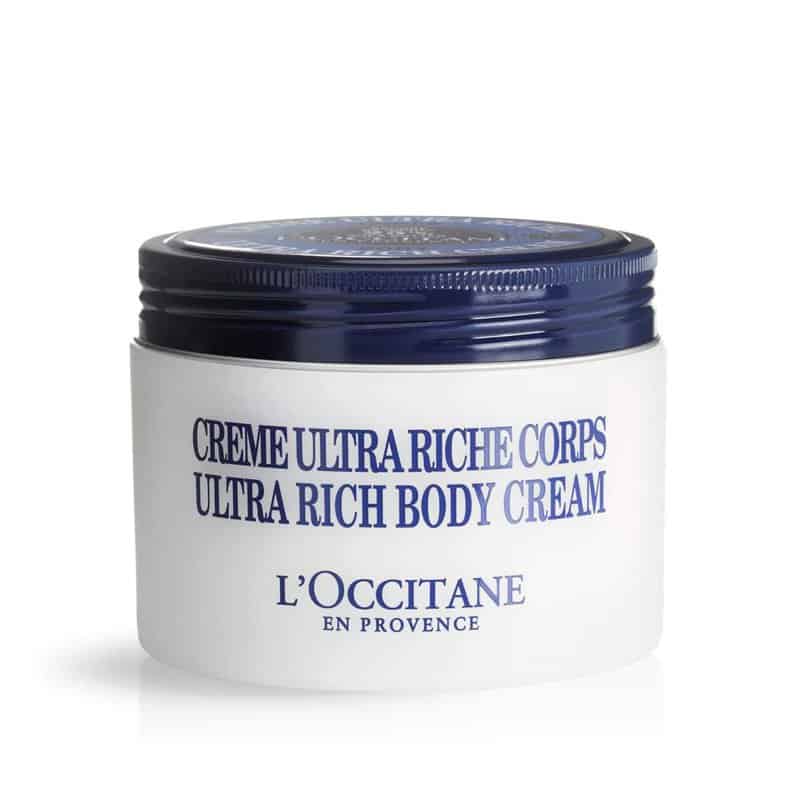 2. L'Occitane Ultra Rich Body Cream
Another renowned brand when it comes to skincare is L'Occitane, otherwise known as L'Occitane en Provence. This brand, aside from their body butter products, offers skincare, hand care, body and bath, fragrances, and hair care products.
Did you know they also have their body butter product? Their Ultra Rich Body Cream is the ultimate like. Enriched with 25 percent shea butter, this body cream offers long-lasting nourishment and protection for those suffering from dry skin. The product's ultra-rich texture absorbs quickly for maximum results and instant comfort.
With this product, your skin is supremely nourished and protected, perfect for those who are under so much stress in life.
To use, simply massage into the skin all over the body after bathing, showering, or anytime the skin feels dry or tight.
3. philosophy Amazing Grace Whipped Body Crème
This product melts onto the skin to moisturize and soothe it, leaving it silky soft. To use this product, massage the cream onto your skin after taking a bath or shower.
4. Ancient Greek Remedy Organic Facial And Body Butter Cream
Are you looking for body butter products that also have anti-aging properties? Try this Ancient Greek Remedy Organic Facial And Body Butter Cream.
Apply this anti-aging moisturizer for softer and smoother radiant glowing skin. See this product nourish and restore moisture to your entire body. It also reduces age and dark spots, fine lines, frown lines, forehead wrinkles, ashy skin, neck wrinkles, and so much more.
This organic moisturizer is perfect as your day and night face cream, and not just as this, but you can also use this as your hair cream, body cream, and hand cream.
This body butter is safe for all ages, from adults to kids, and even babies and toddlers can use this skincare formula.
5. La Roche-Posay Lipikar Balm AP+ Intense Repair Body Lotion
This body cream moisturizer for dry skin to extra dry skin does a distinctive prebiotic action on the skin microbiome. This product is clinically proven to reduce dry and rough skin, provide daily relief, and offer long-lasting and 48-hour hydration. It also has a rich, comforting balm texture with a non-greasy and non-sticky finish, very safe to use even among babies as early as two weeks.
6. CeraVe Moisturizing Cream
The CeraVe Moisturizing Cream contains hyaluronic acid, ceramides, and MVE technology for 24-hour hydration. It also has a rich and velvety texture, leaving the skin feeling smooth. Plus, it is absorbed quickly for softened skin without the greasy and sticky feel.
What makes this product unique from many products in the market is how it contains ceramides. Ceramides are found naturally in the skin, and make up 50 percent of the lipids in the skin barrier. All products from CeraVe are formulated with three essential ceramides that help restore and maintain the skin's natural barrier.
Moreover, this dermatologist-recommended body butter is also suitable for dry skin relief. It likewise treats sensitive, oily, and acne-prone skin, among many others.
Use this body butter as your gentle daily moisturizer, and may also be used as hand cream to relieve drying skin.
The product also holds a Seal of Acceptance from the National Eczema Association.
7. La Roche-Posay Cicaplast Balm B5
If you are looking for a body butter that works scientifically upon the skin, you better try this La Roche-Posay Cicaplast Balm B5. Lucky for the La Roche-Posay brand, it is landing twice in this list of the best body butter products with another of its favorite product.
This Cicaplast Balm B5 is a soothing cream for your face, hands, and body that does not only soothes but also hydrates cracked, chapped, and chafed skin. This multi-purpose cream offers daily relief for dry to very dry skin.
The product is best for those suffering from rough and cracked skin, dry skin irritations on the face and body, chapped and chafed skin, sensitive skin, and more.
What is even greater about this body butter is that it is suitable not just for adults, but also for children and babies.
8. Palmer's Cocoa Butter Formula With Vitamin E
Last but not the least on our rundown of the best body butter products for the body and skin is Palmer's Cocoa Butter Formula With Vitamin E. This product comes with a swivel stick as it provides help for marks and blemishes, and is ideal for touch-up moisturizing on the face, body, elbows, knees, and feet. The product also moisturizes and soothes dry, cracked, and chapped lips.
Its ingredients include cocoa butter and Vitamin E. Cocoa butter is a rich, natural moisturizer that leaves the skin soft and silky, transforming even the roughest and driest areas into buttery soft skin. Meanwhile, Vitamin E does its magic as a powerful antioxidant that helps improve the appearance of scars, stretch marks, and imperfections on the skin, giving the person a more even and toned appearance.
The Takeaway: Achieving Soft And Hydrated Skin Is At Your Fingertips
Your skin is just as important as the other parts of your body. Unfortunately, though, many people take caring for their skin for granted. Good skincare is essential.
Good skincare is important for various reasons. They include helping your skin stay in good condition, since your shedding skin cells each day. It is incredibly important to keep your skin glowing and in the best condition. An effective routine can help prevent acne, fight wrinkes, and help keep your skin looking its best.
Body butter is one of the formulations you can use to improve the quality of your skin. Body butter offers tons of benefits, such as moisturizing and smoothening the skin; reducing wrinkles; soothing sunburn, eczema and rashes; forming a protective barrier over the skin; nourishing your skin with vitamins and antioxidants; and reducing and preventing stretch marks.
When choosing and buying skincare products like body butter, consider the following: reputable brands, price, the store where they come from, your skin type, and your needs. We hope the list of the best body butter products above has given you the idea of what to buy when it comes to taking good care of your skin. Have fun shopping!