[yasr_multiset setid=1]Affiliate marketing, in particular points, is about reaching your targets and goals. One of the aspects that you need to stay on top of when you are working on affiliate marketing is your conversion rate.
Why are conversion rates important? Well, the affiliate channel heavily relies on the conversion rate. Without it, customers will not order, and affiliates will not get paid commissions. Also, if you are not converting your customers, then you are risking lost earnings. This is not where you want your brand to be. So, ensuring your conversion rate is always up is necessary.
To constantly increase your conversion rate, among the tasks you need to find yourself in is improving the content you share with your audience or customers. When you have high-performing content, there are more chances that your customers will go ahead to purchase the products you offer.
Creating good content involves adding elements that will encourage your readers to become customers and buy your products. Some of these elements are your comparison chart and product boxes.
Without the right tools, you would spend so much time installing and managing multiple plugins just in order for you to make these content elements happen. But do you really need to? Here is a tool that will help you stay on top of everything without being everywhere all at once.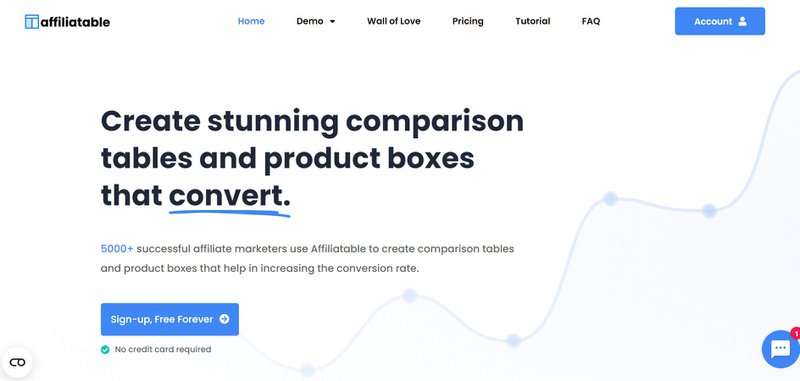 Affiliatable is a cloud-based software for creating a comparison graphic, product boxes for product comparison, and more elements intended to provide your website visitors with appealing product information and increase the chances these visitors would click your affiliate links.
It is a Software as a Service or SaaS that makes it simpler and a whole lot easier to construct high-converting and beautiful elements such as product boxes, comparison tables, pros and cons boxes, top three boxes, and rating boxes. Composed of individuals with experience in affiliate marketing, WildTech created this software.
According to its official website, over 5,000 successful affiliate marketers use Affiliatable to create various elements for their content that increase conversion rates. Many of these users laud its affordability and usability.
What Are Some Of The Things You Can Create Using Affiliatable?
There is no need to jump between various tools when you have Affiliatable. It is a one-stop platform for all your needs. Affiliatable lets you create the following:
And more elements that can be created with the use of Affiliatable are coming your way soon, according to their official website.
Below are some of the features that Affiliatable users love about the software.
1. Pre-Designed Templates
Users can create the most appealing advertisements for their affiliate products using Affiliatable.
It has handy templates to fill in the product title, description, and other notable qualities of the items you want to sell. You can also assign them point scores and feature labels, such as "Budget Pick" or "Editor's Choice," if you prefer.
Not only these, but you may also create a captivating ad specifically made for increasing your conversion rate through posting the affiliate link in the relevant section.
Affiliatable provides a wide range of ad formats for your readers to consume. Your reader can then compare and contrast related products with the comparison tables, top three boxes, opposing boxes, and rating boxes you create.
If you want them to focus their attention on a single product, you can create single-product boxes. If you want your readers to know the benefits and drawbacks of the product you are featuring, so they can make educated choices, create pros and cons boxes.
2. Amazon API Integration
It is without a doubt that Amazon has one of the biggest affiliate networks worldwide. And, consumers who are also Amazon affiliates may request that product information to be filled out on their behalf.
Affiliatable is integrated with Amazon API so you do not have to manually do everything. How does this work? Simply enter your Amazon API login information to connect their website to Affiliatable.
As you create your display, just copy and paste a product's ASIN into the provided space. You will then see the item importing a picture, the item name, and an affiliate link straight from Amazon. Now could you find another software that does this wonder?
The Internet has created a brand new world for its netizens, more so with its geo-targeting functionalities. Affiliatable has this. With this feature, international users are immediately brought to the appropriate online store.
What are other features to enjoy with Affiliatable? Read on.
4. Multiple Call-To-Action Buttons
Contrary to other reviews that say you cannot add CTA buttons with Affiliatable, Affiliatable users can add up to two CTA buttons for each product they promote.
This is incredibly helpful if you are a member of several affiliate networks. Plus, bloggers can now link both "Reviews" and "Buy Now" pages with this feature. Call it an affiliate marketing monster. It really is.
Your opportunity and ability to make money from affiliate marketing partly depend on how your website performs on Search Engine Results Pages.
With the Pro package of Affiliatable, you will get access to schema for your advertisements. What is this all about?
Search engines can highlight the web pages where your ad appears with the help of Affiliatable for the best SERP presentation. To make this happen, simply copy and paste the URL you intend to highlight into the relevant area. Other features of Affiliatable include click analytics and WordPress plugin.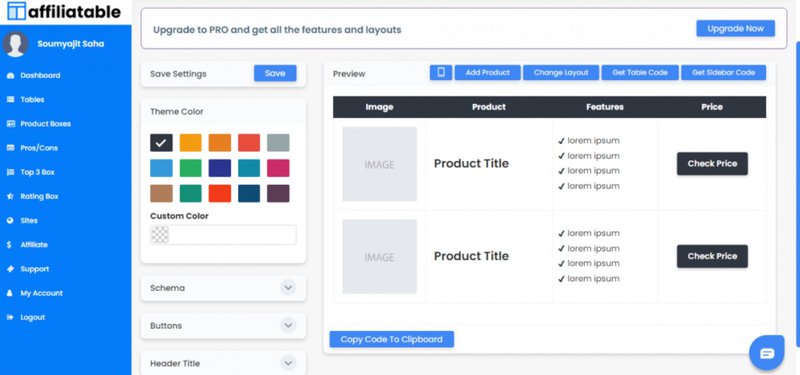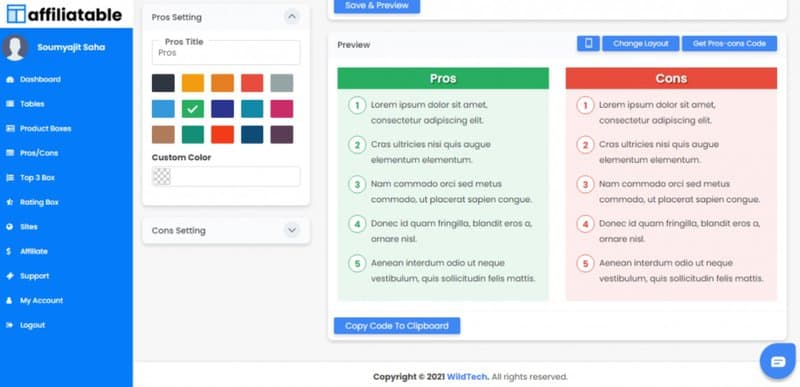 How much does Affiliatable cost? Learning about a software's pricing is important on your way to making the decision whether or not to acquire the software. For Affiliatable, there are Yearly and Lifetime options. The latter is being offered for a limited time only, so you better grab it while you can.
For the Yearly option, there is the Basic - Single, which is free forever. You have features like one website, 100 tables and boxes, a geo-targeting feature, and a WordPress plugin. But this option will not allow you access features such as schema optimization, live chart support, and premium templates. You will need to purchase the paid options.
For the paid options under Yearly, you got the Pro - Single at $49 per year, Pro - Plus at $149 per year, and Pro - Advance at $249 per year.
For the Lifetime option, the Pro - Single is at $299, the Pro - Plus is at $599, and the Pro - Advance is at $899.
Now That You Have Learned About Affiliatable, Let's Answer Some Quora Questions On Affiliate Marketing And More
Here are the answers to the most popular questions on Quora about affiliate marketing and more.
1. Does Quora Allow Affiliate Marketing?
Quora is a great platform where you can promote your products and services. However, like many other platforms, it has its own set of policies. Does Quora allow affiliate marketing? Well, direct linking to affiliate offers is not allowed. Answers with affiliate links are tagged as spam and could be deleted. Posting direct affiliate links can get your account suspended or banned.
2. What Is The Potential For Earning A Full-Time Income With An Amazon Affiliate Website?
The Amazon affiliate website is officially known as the Amazon Associates Program. It helps content creators, publishers, and bloggers monetize their traffic. With millions of products and programs accessible on Amazon, associates or Amazon affiliates use easy link-building tools to direct their audience to their recommendations, as they earn from qualifying purchases and programs. This, earning a full-time income with the Amazon affiliate website is a huge possibility.
3. Which Email Marketing Tools Allow The Use Of Affiliate Links Directly Inside The Emails?
Some of the best email marketing tools that allow the use of affiliate links directly inside the emails are GetResponse, OptinMonster, and ConvertKit.
4. Can Brand Or Business Page Owners Post Their Own Affiliate Links On Facebook?
You may not be able to post affiliate links on platforms like Quora, but Facebook's Terms of Service, together with the TOS of Amazon Associate, allow you to post affiliate links on your personal profile page or your business page. However, you have to make sure to check the TOS of other direct affiliate networks to ensure that posting their affiliate links on Facebook is okay.
5. How Do I Increase The Conversion Rate For An eCommerce Website?
Among the proven and tested things you can do to increase the conversion rate for an eCommerce website is improving your content. You can do this by incorporating additional elements, such as comparison charts and product pages. These elements will drive your readers to become customers who actually buy your products.
But how can you get started creating comparison charts and product pages? You can do so with tools like Affiliatable. With Affiliatable, you do not have to jump from one platform or plugin to the next, since this is a one-stop software that will provide you with everything.
As a business owner, at the end of the day, you want to ensure that you maximize the ways to earn the highest profits. Affiliatable is one of today's greatest assets to help your website generate more money for you. In this review, we looked at what Affiliatable is, including its various features and pricing so you know how much to budget to acquire this fantastic software.
Our verdict: Highly recommended.
So what are you waiting for? Create a chart online, as well as product boxes that highlight product comparison, and more, with Affiliatable.